Fillmore County Odegeo Graduation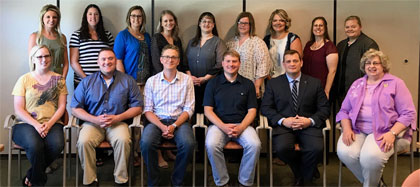 The 2016-17 Odegeo….Leadership for Fillmore County participants graduated from the nine-month leadership course on June 20. The event was held at the Heritage Crossings in Geneva.
Todd Boller gave the welcome after which Vicky Thompson introduced the speaker for the graduation Dr. Terry Hejny, Ph.D., director of Nebraska LEAD program. Mr. Hejny talked about his career starting in Geneva at the school and then as the Fillmore County extension agent. He now leads the Nebraska LEAD program and gave several points that help people be good leaders.
FCDC Director Patt Lentfer, thanked the Leadership Development committee for all their work to plan and execute the nine-month leadership program. Those committee members were Todd Boller, Susan Johnson, Vicky Thompson, Andrew Ley, Norman Marks, Jamison Jensen and Mary Shanle.
Mary Shanle introduced the 2016-2017 Odegeo leadership class and their sponsors. They are Katie Gnuse-Fillmore County; Sarah Johnson-City of Geneva; Eric Kamler-Kamler Enterprises LLC; Tracy Kresak-Farmers and Merchants Bank; Karen Margheim-Village of Shickley; Renae Marks-Individual; Andrea Mumm-Heartland Bank; Rachel Olson-UNL Extension; Jason Rippe-Bioiberica Nebraska; Ashley Risseeuw-Kopsa Otte+Associates; Patricia Rocole-Generations Bank; Angela Ruhl-York State Bank; Mitchell Schlegelmilch-NPPD-York; Christina Srajhans-Farm Bureau; Kelly Stroh-City of Geneva and Adam Wallin-Cornerstone Bank.
Susan Johnson recognized the 27 Fillmore County businesses who had helped sponsor lunches and snacks during the leadership sessions as well as the graduation lunch. Even more businesses and organizations shared information about their entities throughout the year as the leadership class traveled from place to place learning about the various aspects of Fillmore County.
As each graduate received their plaque from Jamison Jensen and Andrew Ley, he or she gave a statement of what the Odegeo. . .Leadership for Fillmore County sessions had given them. They then stated how they will use the knowledge and skills they learned to get involved in their community, serve on a board, work on an issues, run for office, etc.
The Fillmore County Odegeo Leadership project is a county-wide leadership program designed to identify, educate and develop leaders within Fillmore County. The class meets nine times a year to develop an awareness of the Fillmore County community by examining the major systems that contribute to patterns of life in the area.
Persons interested in learning more about the Fillmore County Odegeo Leadership project should contact the Fillmore County Development Corporation at 759-4910, e-mail lentfer.fcdc@genevamail.com or go to www.fillmorecountydevelopment.org. The next leadership class will start in the fall of 2018.