Final Week Trapshooting; Year Awards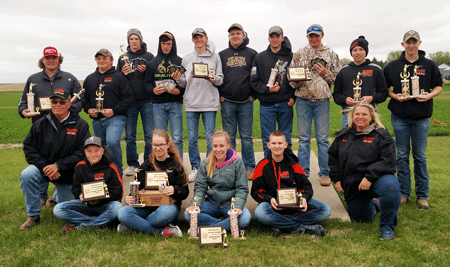 April 27 was a cold and windy day at the Crooked Creek Gun Club for the sixth week of the conference season. Of the 139 total shooters, 27 were from the local team. The Fillmore County team consisted of 20 senior high division shooters and seven junior high division shooters. Ron Schropfer and Chris Coash coach the local team.
In the Senior Division, the FC squad of Kyle Broman, Austin Plock, Trenton Srajhans, Brock Tatro, and Carson Tatro had a great day in the poor weather conditions earning the 16 Yard High Senior Team award with a combined 197, the High Handicap Team award with a combined 205 rocks, and the High Overall Team with an end total of 402 rocks. Lauryn Monteforte and Michelle Fessler had a combined score of 149 to earn the Senior Ladies Champion Team award.
In the individual standings, Austin Plock was the Overall High Male Champion with 86 rocks in the gale force winds. The Overall High Female Champion was Lauryn Monteforte with 76 crushed targets. Michelle Fessler secured Overall High Female Runner-Up with a score of 73.
From their distance handicaps, Austin Plock prevailed as the Handicap Male Champion after a shoot-off with teammate Dylan Vodicka from an original 44 broken rocks. Lauryn Monteforte was the Handicap Female Champion with 41 rocks. Dylan Vodicka took home the 18-19 yard Handicap award with 44 rocks. Jared Engle prevailed at the 20-21 yard line after a shoot-off with teammate Trenton Srajhans with an original score of 41.
High School team scores were (16 yard score/handicap score/total):
Team 1: Kyle Broman, 42/38/80; Austin Plock, 42/44/86; Carson Tatro, 36/40/76; Trenton Srajhans, 40/41/81; and Brock Tatro, 37/42/79. Total team scores: 197/205/402.
Team 2: Dylan Vodicka, 37/44/81; Tucker Stutzman, 34/41/75; Jared Engle, 42/41/83; Kaleb Scheil, 41/38/79; and Caleb Hendrickson, 36/37/73. Total team scores: 190/201/391.
Team 3: Aidan Trowbridge, 41/31/72; Conner Nun, 40/38/78; Michelle Fessler, 36/37/73; Gunner Gewecke, 33/40/73; and Lauryn Monteforte, 35/41/76. Total team scores: 185/187/372.
Team 4: Shane Fessler, 40/39/79; Izayah Morris, 40/33/73; Riley Hiatt, 36/43/79; Devin Kronhoffman, 29/18/47; and Kellen Wusk, 25/29/54. Total team scores: 170/162/332.
Junior high team scores were (50 rocks at 16 yards):
Team 1: Zachary Coash, 24; Logan Johnson, 37; Wyatt Rayburn, 36; Treygen Srajhans, 31; and Jasper Stutzman, 37. Total team, 165.
Waylon Rayburn, 25; and Jaeden Wilkins, 26.
Conference Awards
The sixth week of shooting conference concluded with conference awards, and several Fillmore County Trap Team members brought home hardware recognizing their accomplishments.
In the Senior Division, Austin Plock was the All- Conference Senior Male First Team Captain with an impressive 439 rocks as the season total. Teammates Kyle Broman, Carson Tatro and Trenton Srajahans were also named All-Conference Senior Male First Team with 436, 436, 434 broken rocks, respectively.
Brock Tatro and Jared Engle made All-Conference Senior Male Second Team with 426 and 425 rocks, respectively. Gunner Gewecke and Riley Hiatt made All-Conference Senior Male Third Team with 414 and 412 rocks, respectively.
Lauryn Monteforte and Michelle Fessler earned All- Conference Senior Female First Team with 404 and 395 rocks, respectively.
Wyatt Rayburn and Jasper Stutzman made All-Conference Junior Male First Team with 214 and 208 rocks, respectively. Scholarships were also announced with conference awards. Congratulations to high school seniors Lauryn Monteforte and Kaleb Scheil who were scholarship recipients. Many thanks to the coaches, parents, volunteers and community members who support our team.