Fire station to go to bid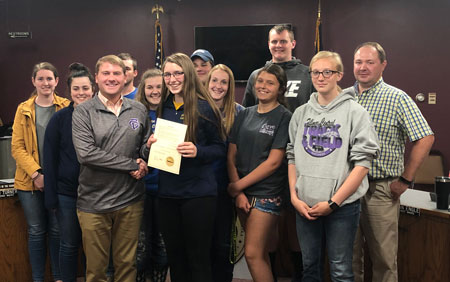 By GREG SCELLIN
Signal Editor
The Geneva City Council unanimously voted to go out for bids for a new fire station and debated on what the lot prices should be at Geneva's 19th Street Housing Addition at the city council's regularly-scheduled meeting last week.
The time line for the fire station project will be: May 8-22, three weeks of legal publication; May 13, JEO Consulting Group, Inc., releases bid documents; May 29, 10 a.m., pre-bid meeting; June 11, 2 p.m., bid opening; June 17, Geneva City Council approves contracts; July 8, construction begins and April of 2020, completion.
Corey Brodersen with JEO went over the fire station project with the city council and a handful of Geneva firemen last week. The 13,600 square foot pre-engineered metal building will contain six bays, training and meeting room areas, equipment storage areas and a mezzanine level. It will also have areas designed for future uses. Current estimates for the project range between $1.6 and $1.76 million.
"It is a pretty straight-forward design for a community like Geneva," Broderson said. "I think the project really came together well."
Some items recently finalized including moving the building's design up six inches to help with drainage; keeping the building 12-15 feet from the property line; keeping a generator with the project; in-floor heat or radiant heat and if a safe room is needed.
"Your firemen have really went over the building," Broderson said. "I also think the bid environment is very strong right now for a project like this."
Former Geneva fireman Tom Ortgies noted the current Geneva Fire Barn was built in 1971 or 1972 and needed modifications from day one.
"I ask you to do it right," Ortgies said. "I see how much work the firemen have had to do on their own in the current fire barn to make it usable…insulate, making the heating right… If you don't do it now, you're going to pay for it later. It is a focal point of the community…just like city hall."
The city council voted 6-0 to go out for bids for the new fire station, which will be located at 7th Street and F Street.
"I think we have a good building," Geneva Mayor Eric Kamler said.
In conjunction with the new fire station location, the city council approved having JEO design a two-block water main extension to the building's location. This project is estimated to cost about $100,000. The six-inch water line will move along the south side of F Street from 8th Street to 6th Street.
Another topic on the May 6 agenda included discussion on lot prices at the 19th Street Housing area. Actual assessment prices for the six lots in the Third Addition ranged from $14,954 and $24,800 as computed by JEO. Assessment prices for the 10 lots in the Fourth Addition ranged from $13,522 to $38,264.
Geneva City Attorney David Solheim and Geneva City Administrator Kyle Svec also noted that $275,000 in City of Geneva Sales Tax Economic Development dollars have been earmarked to make the lots affordable for work-force housing.
"I think if you get these lots down to an affordable price, they would sell like hot cakes," Svec said.
An average lot sale price of $15,000 was discussed.
"Guys, these people are getting a brand new street, brand new lot," Council President Josh Turner said. "You're by the elementary school, hospital, new community center…"
The city council voted to use some of the economic development sales tax funds to offset the JEO-estimated assessments. Two lots in the new housing development will be priced at $10,000, while two more will be priced at $20,000 and the majority (12) being priced at $15,000.
In other meeting notes:
• Craig Jones with First National presented an interim financing bond package to the city council. The bond issue will not exceed $1.55 million and will run for one year to move current projects along. After one year, 15-year permanent financing will go into place.
• Kamler outlined a Memorandum from the Mayor that encourages city workers to report any and all visible City Code of Ordinance violations. These violations could include overgrown grass/yards; abandoned cars; dilapidated properties and creation of emergency snow routes.
"This will encourage people to keep things a little cleaner," Kamler said. "The goal is to keep city codes in line."
• John M. Lentfer gave a seven-minute presentation questioning stop-sign locations, arterial street identifications and right-of-way obstructions.
• Mike Motis requested the city council look into forming a Paving District for S. 10th Street between A Street and B Street.
• Street improvements on H Street between 18th Street and 19th Street were discussed. The improvements will cost $97,647.39 with $64,438.23 being paid by the City of Geneva and $33,209.16 being paid by adjacent property owners. The project will be a change order to the 19th Street paving project.
• The city council was in general consensus to wait on any changes to the center medians along 13th Street. "I think they function okay as they are," Turner said.
• During his city administrator's report, Svec noted that Werner Construction paving crews are in town. He also said he has been approached by a group of citizens who are interested in establishing a walking trail in the city.