Guy, Banta sentenced to jail, prison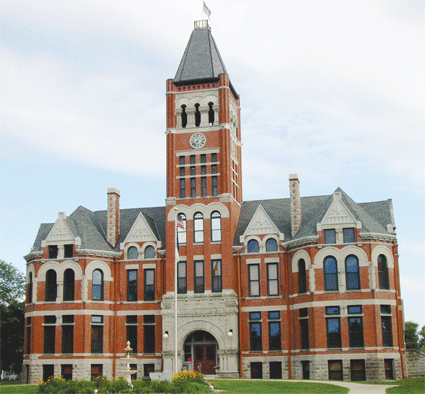 A Geneva teenager and a former Ohiowa man were sentenced last month in action in the Fillmore County District Court.
Jason D. Guy of Geneva was sentenced to 180 days in the Fillmore County Jail by District Court Judge Vicky Johnson on April 14 for violating his probation. Johnson gave the defendant 10 days credit for time served and calculated his sentence to actually run for 98 total days.
Prior to sentencing, Fillmore County Attorney Jill Cunningham told Judge Johnson that Guy has no respect for officers with the Fillmore County Sheriff's Office (FCSO) and suggested a straight sentence being served with the Nebraska Department of Corrections. She said, Guy doesn't work, refuses to go to school and makes no attempt to pay the restitution he has been court-ordered to pay. Guy violated multiple portions of his probation including testing positive for illegal drugs, inconsistent school attendance and failing to maintain employment.
Fillmore County Public Defender Brad Kalkwarf noted the defendant's age and unwillingness to participate in the state's work-ethic program.
Judge Johnson also ordered the defendant to pay $208.84 in court costs as previously ordered, but forgave the restitution amounts outstanding noting Guy has no ability to pay.
Before being reprimanded into the custody of the FCSO, the defendant handed family members his keys, phone and cap.
"Here you go pops—see you in a 100 days," Guy said.
Also last month, Judge Johnson sentenced Bryan R. Banta, 25, currently incarcerated and formerly of Ohiowa, to multiple terms with the Nebraska Department of Corrections. Banta, who has also been recently sentenced for multiple offenses in both Clay and York counties, was sentenced to not less than three years nor more than five years in prison for one count of Burglary; not less than 20 months nor more than 60 months for Possession of a drug controlled substance and not less than three years nor more than five years for another count of Burglary. The sentences are to be served concurrently and Judge Johnson gave Banta credit for 99 days previously served. The defendant was also ordered to pay court costs of $274.68 and $159 and to complete DNA testing and fingerprinting.
"…I want to let everyone know I've kind of struggled with addiction issues," said Banta prior to sentencing. "It's time for me to grow up…I have two young children…I need to get back to being healthy and see them again."
Banta pleaded guilty to breaking into the Dorchester Coop in Exeter on November 25, 2014, and stealing gas at a rural Ohiowa farmstead last year with a co-defendant. Banta admitted to smoking marijuana at the time of the burglary in Exeter, but also faced charges of possession of methamphetamine, methylphenidate and alprazolam in Fillmore County.