Hearing on proposed wind farm to take place May 14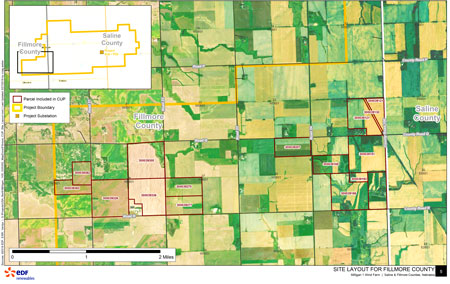 By GREG SCELLIN
Signal Editor
There will be a Public Hearing on Tuesday, May 14, at 1 p.m., in the basement meeting room of the Geneva Public Library to discuss the Conditional Use Permit (CUP) filed by Milligan 1 Wind, LLC, to construct, operate and maintain up to nine Utility Grade Wind Energy Systems in Glengary Township, Fillmore County.
The nine, up to 600-foot wind towers, would be located on nine of 14 land parcels in the county—mainly between County Road 20 and County Road 25 and between County Road Q and County Road R, southwest and south of Milligan.  Three land parcels, including a railroad right-of-way, are located on a section of ground just northwest of County Road 25 and County Road Q. In all, parts of six sections of farm land would be included in the project in Fillmore County.  The vast majority of the project would be located in Saline County.
The Fillmore County Board will be conducting the Public Hearing.  EDF Renewables Development is the project manager.  The company did not return an email for more information on the potential project.  Fillmore County Zoning Administrator Jennifer Slezak said, the company is including 14 parcels in the CUP because the exact placement of each of the nine wind turbines has not yet been determined.
"They are asking that the CUP be approved without that information," Slezak said.
She also said that maps have been provided to zoning officials that indicate the individual potential building sites that meet all the set-back requirements.
"They do not have a set in stone site layout," Slezak said.
At least one area property owner is not in favor of the proposed project, according to a Letter to the Editor that appeared in last week's edition of this newspaper.