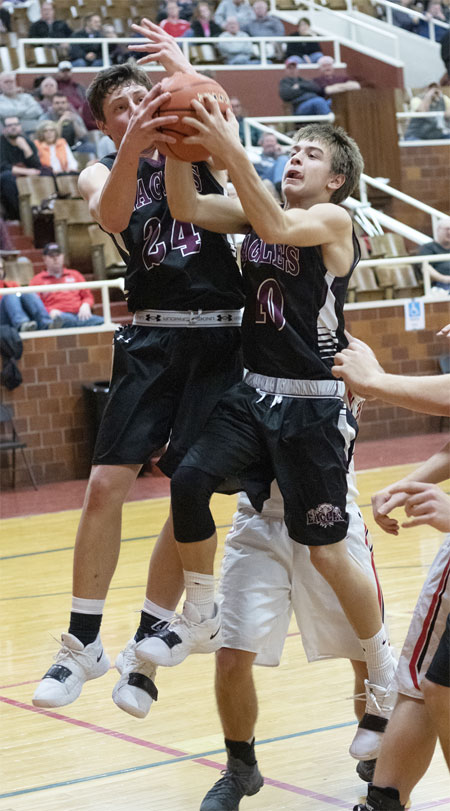 On Tuesday, January 8, Bruning-Davenport/Shickley traveled to Beatrice for quarterfinal action of the MUDECAS A Division Tournament to take on the D-2, No. 1 state-rated Eagles of Johnson-Brock. The BDS boys came out ready to battle in the first half creating a defensive stalemate until half time where both teams headed in at an 18-18 tie.
However, it was the Eagles of Johnson-Brock that got the upper hand in the second half opening up with some hot shooting and eventually turning a 12-point third quarter lead into a 20-point fourth quarter win 56-36 over BDS.
"We stayed strong through some mistakes in the first half and kept ourselves in the game, but in the second half our mistakes led to more points for them and we lost our edge and the game got ugly quick," Eagle head coach Greg Schroeder said. "They can really put points on the board and we didn't take advantage of some opportunities that really cost us."
BDS was set to play Johnson County Central in a consolation game on Saturday that got moved due to weather. The game is likely to be made up in February, but details are yet to come out.
BDS 9-9-11-7-36
JB: 7-11-23-15-56
BDS: Schroeder 5, Grote 6, Kleinschmidt 3, I. Kamler 8, E. Schroeder 2, N. Weber 6, Schlegel 2, Ardissono 4
JB: Fossenbarger 7, Rowe 8, Glynn 20, Hahn 15, Westhard 2, Moerer 4
BDS (9-3) travels to McCool Junction and hosts Exeter-Milligan before competing in this year's Crossroads Conference Basketball Tournament.