Krehnke, Mick Win Gold In Henderson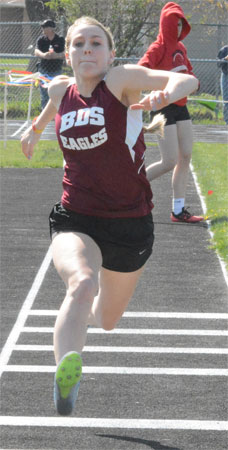 The Bruning-Davenport/Shickley boys scored 64 points at the 2017 Heartland Track Invite and the Eagle girls scored 15.5 points on April 11.
BDS senior Hunter Krehnke took gold in the 110-meter hurdles in Henderson covering the course in 15.72 seconds. Eagle junior Thomas Mick was best in the boys' pole vault winning the event by clearing 13-0. Courtney Kamler paced the BDS girls' efforts on April 11 by clearing 9-0 and placing second in the pole vault.
Also scoring points for the Eagle boys were Mick, fourth, 300-meter hurdles; Garrett Schardt, fourth, 400-meter dash; John Christensen, fourth, shot put; and fifth, discus; Chris Lichti, third, pole vault; Noel Gines, second, long jump; Karson Dickson, fourth, long jump; 400-meter relay team of Mick, Brett Holtzen, Gines and Schardt, second; 1,600-meter relay of Krehnke, Lichti, Dickson and Taylor Anderson, fourth.