Last of county roads getting open, usable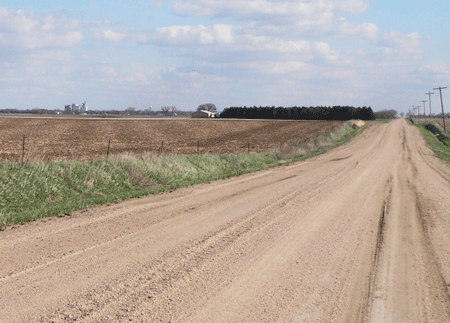 By GREG SCELLIN
Signal Editor
Fillmore County Highway Superintendent Pat Halbur reported at last week's regularly-scheduled Fillmore County Board of Supervisors meeting that she sees all county roads in Fillmore County open in the next couple of weeks. There is still damage to be repaired, but most roads are open for traffic.
The last areas of concern include County Road 19 near County Road W and County Road X; County Road 1 near County Road Q and County Road P near County Road 7 and County Road 8.
"We're finally getting enough water out that we can get to them," Halbur said. "We hope to get to them this week or next. That will open all the ones that were closed tight…but, I will also have to warn you that there's some damage to these and other roads, too. There are also lots and lots of soft spots out there. They (the roads) still need time to heal."
The push is to get all roads open before going back and trying to get roads in better shape.
"I've been telling people we're still trying to get roads open," Supervisor Ralph Graham said.
"We have a lot of work to do to get these into good shape," Supervisor Kenny Harre said. "Every road has its problems…there's only so much you can do. There's no winning in this deal."
Another concern with the flooding conditions is the damage to culverts underneath.
"My question is, what are we going to do with all these culverts that are now showing?" asked Halbur. "I think we're going to be really busy this summer with culverts."
Other items discussed at the April 23 county board meeting included:
• The Fillmore County Courthouse will only be available for entrance from the north or to the south. The east and west entrances will be exit-only.
"We are one of the few that have entrances in all four directions," Supervisor Larry Cerny said.
The supervisors voted 7-0 to only have open entrances in the front and the back.
• The condition of County Road 12 north of State Highway 6 around the railroad crossing into the CPI grain-handling facility was discussed. The supervisors noted that this area is now an annexed part of the Village of Fairmont. Some railroad cross arms work has started at the location.
• The supervisors opened two bids for tuck-pointing the courthouse. Masonry Construction, Inc., of Bellevue submitted a bid of $204,426, while Karr Tuckpointing, LLC., of Vinton, Iowa, bid $338,168.
The supervisors opted to review the bids because the Karr bid may contain more work—work that may be actually needed.
"There's no question they're going the whole nine yards," Supervisor Merle Noel said.
• Halbur reported work is moving along on the new County Shop office building. The project is expected to be completed by the end of May.
"They will be far enough, hopefully, to start a punch list," said Halbur referring to the May 15 progress meeting.
• The supervisors voted 7-0 to purchase a Community Response System (CRS).