Memorial Day Remembers Our Military Heroes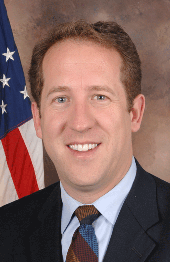 By Cong. Adrian Smith
Memorial Day commonly marks the long-anticipated start of summer. Community pools open, backyard grills fire up, and people hit the road for a long weekend spent with family and friends. For many Americans, however, Memorial Day is a solemn remembrance of those dear to them who made the ultimate sacrifice to defend our freedom. During the holiday weekend, we must all make it our top priority to honor and remember our military heroes – our fallen and those still with us who served beside them.
In late April, I had the opportunity to thank 25 Nebraska veterans who traveled to our nation's capital on a Korean War Hero Flight. As we toured the Korean War Veterans Memorial, they relayed stories of their experiences and how proud they were to serve. Young people approached many of the veterans to say thank you and ask for photos. These heroes, including those who did not return, inspire patriotism in all generations of Americans. Their stories fill us with admiration and gratitude.
To ensure our veterans' legacies are preserved, my office is continuing the Veterans History Project. Through this initiative, my staff is compiling accounts from Nebraska veterans to be archived in the Library of Congress. If you are a veteran or know a veteran who would be willing to share his or her stories and experiences, please call my Scottsbluff office at 308-633-6333 or visit http://adriansmith.house.gov/contact-me/ to set up an appointment with one of my staff members.
In Washington, I am committed to pursuing policies to support our military heroes. I founded and serve as co-chair of the Congressional Rural Veterans Caucus to address issues affecting veterans in rural areas, such as access to quality health care. Reports show reducing this access causes veterans to choose to delay or even forego the care they require. Our veterans deserve the best care available and should never go without the treatment they need.
To ensure access to care for veterans in rural Nebraska, I continue to advocate for keeping the Hot Springs VA Medical Center open. Last month, I voted in favor of the Fiscal Year 2016 Military Construction and Veterans Affairs Appropriations Act, which would require the VA to accelerate claims processing and improve the compatibility of VA and Department of Defense records. The bill also includes language to prohibit funding for the closing of any VA hospital which serves a highly rural population, such as Hot Springs. Veterans should no longer experience lengthy wait times for appointments or be neglected by an outdated system.
Veterans in the Third District who are experiencing difficulties with the VA or other federal agencies are invited to contact my Grand Island office at 308-384-3900. The congressional caseworkers in my office may be able to help you cut through the red tape at these agencies. These caseworkers have years of experience and would be honored to assist our local heroes.
In addition to caring for our veterans, we must also protect the banner our troops fought and sacrificed to defend. I am a proud cosponsor of H.J. Res. 9 to prohibit burning or other physical desecration of the United States flag. Respect for our country's flag goes hand-in-hand with honoring the legacy of our fallen soldiers, veterans, and those currently serving.
The selfless men and women who put their lives on the line for us and our country deserve our deepest gratitude. However you choose to celebrate Memorial Day this year, I ask you to join me in setting aside time to honor our military heroes who have sacrificed so we may live each day in freedom.