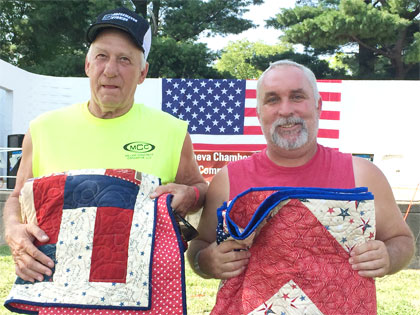 Two U.S. military veterans were wrapped in Quilts of Valor to thank and honor them for their military service in the Geneva City Park during the July 4th Celebration.
Joseph C. Monforte, Sr. and Joseph C. Monteforte, Jr. were among the audience in Geneva City Park listening to the history of the Quilts of Valor Foundation as presented by Phyllis Schoenholz of Ohiowa and Jody Houck of Strang.
Both U.S. veterans were surprised when Jody announced they were to be thanked and honored for their military service with Quilts of Valor on the July 4th holiday.
Joseph Sr., enlisted in the Army in March 1966 and completed Basic Training and Advanced Individual Training as an Engineer Equipment Specialist at Ft. Leonard Wood, Mo.
After completing the training, he was deployed to Qui Nhon, Vietnam with Company D Troop Command, where he served there for 1.5 years.
Joe was honorably discharged in October 1968 as Specialist E-4. He was awarded the National Defense Service Medal, which was established by President Eisenhower in 1953. The medal was first intended to be a "blanket campaign medal" awarded to service members who served honorably during a designated time of "National Emergency" that was declared during a time of war or conflict. This medal is currently the oldest service medal in use by the U.S. Armed Forces.
Joseph Monteforte, Jr. enlisted into the Army Reserve during his senior year of high school in January 1988 and attended 295th Ordinance Company National Guard meetings in Hastings. His August 1988 basic training was held at Ft. Leonard Wood, where his father was trained.
In December 1990, Joe was called to active duty serving on the advanced transporting equipment unit at Ft. Riley, Kan. In January 1991, he was transferred to Bobenhousen, Germany where he aided in ammunition transportation to support Desert Storm.
Then he was transferred to Darmstadt, Germany where he continued duties of ammunition transportation. One of the tasks was to clear out very large depots that contained ammunition and vehicles that dated back to WWII. Some of the WWII ammunition boxes were stamped "Hastings, NE."
Joe Jr., came home in June 1991 and was honorably discharged July 1991. He remained with the 295th Unit where he continued his service as an inactive-ready reserve attending Guard meetings once a month and two weeks during the summer until 1994. Joe was honorable discharged in 1996 as Sergeant E-5.
The Quilts of Valor Foundation effort was founded in 2003 by Catherine Roberts who had a son deployed in Iraq. It literally began with a dream Catherine had when she felt "10 seconds from panic" with fear for her son. She had a hard time sleeping and one night in a dream she saw a young deployed soldier sitting on the side of the bed in the middle of the night, hunched over with a pervading feeling of gloom. Then as if viewing a movie, the next scene of the dream was totally transformative. The soldier was wrapped in a quilt and the whole atmosphere changed, from one of despair to one of hope and well-being.
The mission of the organization is to "cover service members and veterans touched by war with comforting and healing quilts." Since the beginning in 2003, Quilts of Valor volunteers have awarded 190,733 quilts by wrapping them around U.S. active military and veterans.