Moses Earns Gold In Omaha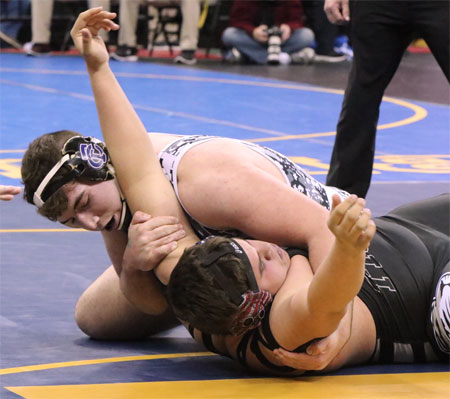 Ranked first all season at 285 pounds in Class C, Fillmore Central senior Riley Moses was able to seal the deal Saturday afternoon in Omaha and lay claim to the Class C NSAA State Wrestling Championship's heavyweight gold medal.
But, the trip to the top of the podium was no cake walk for the Husker football recruit. After a quick first-round pin victory, Moses needed triple overtime to get past Justin Hale of Oakland-Craig, 4-2. Next, Moses gutted out a 3-0 decision win over Drew Drake of Broken Bow.
Winnebago's Prosper Gilpin came into Saturday's championship match on a pin-victory tear in Omaha having pinned his first three opponents in less than four minutes combined. The two heavyweights battled through a scoreless first period before Moses (44-2) earned a quick reversal seven seconds into the second period. Gilpin was awarded a stalling point late in the match.
"Riley wrestled really well, as he had a tough way to get to the top of the podium—he had to beat the second, third and fourth place medal winners to claim the gold," FC head coach Ryan Komenda said. "His three overtime match in the quarters was definitely a win because of his hard work and preparation for a situation like that."
Moses became the third Panther wrestler to earn gold at State—joining Luke Delong and Jarrod Hinrichs. The Panther senior also notched his 175th career win in Omaha.
"This was a very great ending to a career where Riley won 175 matches," Komenda said. "The most gratifying part of it all was watching Coach (Alex) Moses present him with his gold medal."
This last weekend was Moses' third trip to Omaha having placed third a season ago at 285 pounds, as well.
Panther 160 pounder Gavin Hinrichs was able to garner a victory in Omaha. The FC junior opened action at State with a 5-2 decision loss to Conner Halverson (eventual fifth-place finisher) of Gordon-Rushville. Hinrichs would then earn an 11-3 major decision over Tom Maline of Oakland-Craig on Friday. His last match was by pin to Brady Hull of Logan View, who ended up in third place in Omaha. Hinrichs finished the season at 33-12.
Panthers Aidan Trowbridge and Conner Nun were unable to get their hand lifted in Omaha. Trowbridge was pinned late by Dru Mueller of Louisville in his opening match. Mueller would go on to place third at 113 pounds. Trowbridge was then pinned by Boston Reeves of Bancroft-Rosalie in the wrestlebacks. Trowbridge ended his freshman campaign at 17-13.
Nun fell to Zak Hansen of Stanton in the opening round and then was pinned in the second period by Kaden Boyce of Ord. Nun finished his sophomore year with a record of 11-24.