Musicians Hall of Fame – 2019 Celebration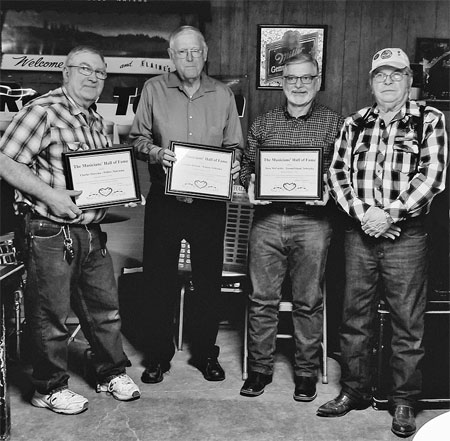 Written and submitted by Debra Polacek, Committee member
Four Nebraska musicians were inducted into the Musicians Hall of Fame during the 20th annual ceremony and accordion jamboree held at Ron's Tavern in Milligan on February 2. Throughout the afternoon, musicians entertained a large audience with traditional Czech polkas and waltzes.
Those honored for their dedication to the preservation of Czech music were Gawaine Dvorak of Wahoo and Charlie Maryska of Wilber.
Honored posthumously were Joe J. Cecrle of Milligan and Dave McCarthy of Grand Island.
All honorees are of Czech and Polish descent and have made significant contributions in preserving Czech musical traditions in Nebraska and the Midwest throughout their lives.
Gawaine Dvorak was born at Malmo, to Bohumil and Henrietta (Novak) Dvorak. At the age of eight, Dvorak's uncle gave him a one row button acccordian. Dvorak learned two songs, "Julida Polka," and "She's Too Fat For Me Polka." When Dvorak turned 12, his father bought him a three row Hohner from a music store in Omaha. Dvorak listened to polka shows on the radio to learn more songs by ear. He also took piano accordion lessons once a week from Fritz Poppe in Fremont.
Dvorak joined the Wahoo National Guard Unit when he was 18. It was at this time that he met a fellow guardsman and polka band leader Math Sladky. Sladky heard Dvorak play his accordion and liked what he heard. In the 1950's, Sladky asked Dvorak to join his KLMS Polka Band on accordian.
Dvorak played with the Adolf Nemetz (Nemec) Band for many years and later, once again, joined the Math Sladky band after Sladky reorganized the group. Dvorak made many recordings with both groups. Dvorak also played with the Walt Baum Trio and the Palensky's.
Dvorak became acquainted with Ivan Kahle and Kahle's concertina player, Jerry Minar, at a Gibbon Minnesota Festival. Dvorak bought a concertina from Minar and soon taught himself how to play the concertina.
Dvorak was inducted into the Omaha Sokol Polka Hall of Fame on November 14, 1999.
Dvorak made his livelihood in the trucking business hauling grain. His hobby is model railroading. His handiwork, building model engines, cars and track layout, can be seen at the Saunders County Museum in Wahoo.
Dvorak and his wife, Donna (Wirka), are the parents of three daughters and one son.
Charlie Maryska grew up on a farm near Wilber and in 1957, attended Saline County Rural School District No. 97. In 1965, he finished his education at Wilber-Clatonia High School graduating in 1970.
As a young boy of four and five, Maryska watched his father Vic play his trap set. Maryska would copy his dad's playing using his mother's pots, pans and spoons. After a few spankings by his mother to deter Maryska from using her cookware, Maryska soon inherited his father's drum set when the spankings failed to work. Maryska's father bought a new set for himself and the two worked together with the young Maryska listening to his father and following his instruction.
Maryska, not only listened to his father's band, Vic and the Stardust Orchestra, but his father had him listen to the music of the 1940's Big Bands like Benny Goodman, Lawrence Welk, Tommy Dorsey and Guy Lombardo and the Royal Canadians. Young Maryska liked the style of Guy Lombardo. Maryska did not limit himself to one style or beat, he also studied Country Western and Rock and Roll. Maryska was in both concert band and marching band in high school and learned new skills as a student.
Maryska's mother sang vocals with Vic and the Stardust Orchestra, so Maryska learned the lyrics to many tunes.
At the age of 11, Maryska was the drummer for the Jim Zalesky Trio. He also played with Eldon Wright and the Range Riders. Maryska played with Galen Beck and Roy Odvody's Band in 1971 and 1972. He was the drummer for The Accordionettes from 1972 to 1976.
Maryska has played with many bands: the Frank Kunc Marching Band, Al's Country Blue Band, Repeat Offenders, Southern Cross, Leonard Becwar Orchestra, Sue and the Blue River Czechs, Kelly Homolka and the Czech Playboys, U-Neta Orchestra, and the Bohemian Aces. Maryska has played with many others. Maryska also taught himself how to play the bass guitar. Currently Maryska finds himself busy drumming and singing with the Southern Cross group and marches with the Wilber-Clatonia Alumni Band every August during Wilber Czech Days.
Maryska and his wife, Janis (Hernandes), are parents of two daughters and one son. They enjoy spending time with their grandchildren.
Joe J. Cecrle was born on March 9, 1917, at Milligan to Joe and Mary (Kassik) Cecrle. Cecrle started playing the trombone at the age of 10 when family friends gave him his first trombone. The trombone was a Montgomery Ward model that cost $8.95.
At the age of 15, Cecrle was already playing with many polka bands from the area. He played live from Radio Station KMMJ in Clay Center.
Cecrle was playing with a band at the Ratskellar Lounge in Denver, Colo., where he met Tommy Dorsey. Dorsey's band was playing at the Orpheum Ballroom above the lounge. Dorsey heard Cecrle and hired him to play trombone. Cecrle played with Tommy Dorsey from the fall of 1940 through the spring of 1942.
Cecrle enlisted in the Army Air Force in May 1943. He played with the HAAF 623rd Band in Harlingen, Texas, and the Squadron I Orchestra. Cecrle played with Bob Hope when Hope entertained the troops. Cecrle attained the rank of Corporal and was awarded the Distinguished Unit Badge as a member of the 38th Cavalry Reconnaissance Squadron for repelling the German counter-offensive at Monschau, Germany. His squadron was the first American unit into the city of Paris. Cecrle was also awarded three bronze battle stars for participation in campaigns in Normandy and Germany.
After World War II, Cecrle played with other big bands: Sammy Kaye, Russ Morgan and Phil Lavant. He also played with Lawrence Welk and the Mills Brothers. He was inducted into the International Hall of Fame for Trombones.
In later years, Cecrle worked in music stores in Kearney and Grand Island in instrument repair. Cecrle died on August 5, 2004, in Grand Island.
David (Dave) McCarthy was born on June 19, 1938, to John F. and Pearl (Copple) McCarthy. His interest in music began in 1948, in grade school band. After graduating from Grand Island Senior High in 1956, his true passion as a bass horn player became a reality when he joined the George Clanky Band. The group played polkas and modern music. The Six Fat Dutchmen, Whoopee John and Joe Lukesh and the Czech Masters were favorite groups whom McCarthy listened to.
McCarthy attended Regis College until he joined the United States Air Force in 1961. After leaving the air force in 1965, McCarthy returned to Grand Island. McCarthy again joined the Czech Masters under the direction of Henry Wit. McCarthy also played bass with Adolph Urbanovsky, Tony's Polka Masters and Kenny Shuda. He often played with Ernie Kucera Orchestra and the Dean Hansen Trio. He played bass on two albums with Urbanovsky and one album with Tony's Polka Masters.
Some other groups McCarthy has played with include Al Grebnick, Adolph Nemetz (Nemec), Harry Czarnek, Vern Belik, The Variety Kings, Math Sladky, The Bruha Trio, Chelewski Brothers, The Vested Czechs. Leo Lonnie Orchestra, Barry Boyce, Mark Vyhlidal, The Czech Friends and The Czechlanders.
McCarthy was a fireman for rural and city departments, an American Legion member and a postal clerk. After his retirement from the postal service, McCarthy delivered auto parts. A lifelong musician, playing his bass horn for over 60 years, McCarthy was part of the Grand Island City Band, the Harvest of Harmony Alumni Band and the Maverick Band.
McCarthy died on October 20, 2017. His survivors include his wife, Judy McCarthy; two sons, Michael and Stephen (Theresa); seven grandchildren and eight great-grandchildren.
The Musicians Hall of Fame was created in 1999 to recognize the talents of the many local Czech-American musicians for their efforts in promoting and preserving the Czech heritage. The Musicians Hall of Fame recognizes those individuals who may not achieve regional or national recognition for their conscientious contributions to Czech music and culture. The annual announcement of inductees is made at a winter accordion jamboree, held the third Saturday of January at Ron's Tavern in Milligan. A permanent plaque featuring the engraved names of the inductees is located at Ron's.
Contact committee members Delores Becwar, Crete, 402-366-5078; Randy Korbelik, Lincoln, 402-416-1300; Debra Polacek, Harvard, 402-772-3451; or Sue Placek, Swanton, 402-641-0669 to nominate musicians for the 2020 Musicians Hall of Fame inductions. Selections are made in the fall.