National 100 Best Personal Finance Education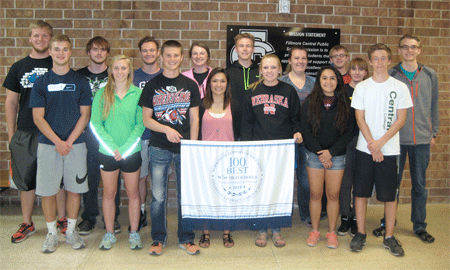 Students from Fillmore Central have earned a place on the 2016 100 Best W!SE High Schools Teaching Personal Finance national ranking created by Working in Support of Education (W!SE), a leading provider of financial education programs.
W!SE announced the prestigious ranking on April 11 at a ceremony sponsored by Voya Financial® and hosted by the Federal Reserve Bank of New York. Instructor Cindy Talley shared that the school had received a banner in the fall along with the news that students had received a Blue Star status for their achievement on the test. She states, "Having Fillmore Central as one of four schools in the state to have students score among the highest in the country on the W!SE Financial Literacy Certification Test is quite an honor." The 2016 ranking is based on school achievement in the 2014-15 school year and is available at: http://www.wise-ny.org/100BestRanking2016.htm.
Fillmore Central students have received the Blue Star ranking for five consecutive years, and this is the third time the school has earned Top 100 honors.
Fillmore Central and the State of Nebraska have made financial literacy a priority. Together with W!SE, students are empowered to take control of their financial futures. By passing the Certification Test, students earn W!SE's Financial Literacy Certification that demonstrates they are graduating with the knowledge and skills that are essential for a life of financial wellbeing.