Nearly $1.5 million in street projects ok'd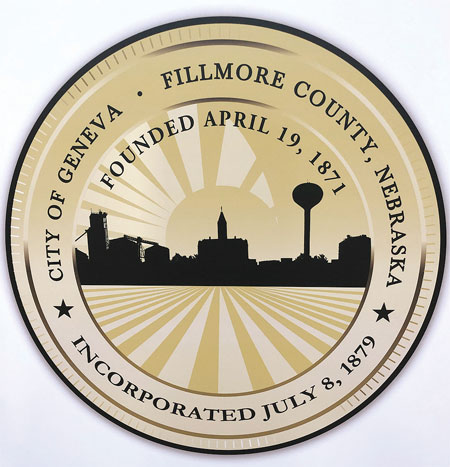 By GREG SCELLIN
Signal Editor
The Geneva City Council accepted two bids for major street paving projects inside the Geneva City Limits at the council's regularly-scheduled meeting last week.
The city council awarded a bid (4-1, Councilman Chuck Udell—no, Cody Lightwine—abstain) to Werner Construction, Inc., for $1.037 million for concrete paving and streetlight improvements on G Street between 11th Street and 13th Street. A strip of brick pavers (which are already owned by the city) will be placed down the middle of the new pavement and in two crosswalk locations to tie into the existing main-street brick streets. A short center median will also be installed near 13th Street to house the refurbished Geneva arrow entrance sign. Storm sewers will also be relocated.
The Hastings construction company was the only contractor who bid on the project.
"We received only one bid on this, but I feel they are a quality contractor and I trust their quality of work," said Ryan C. Kavan, an engineer with JEO Consulting Group, Inc. "I believe their numbers are very good. Unfortunately, there are not a lot of contractors that are in this area…this is not an uncommon thing…plus or minus Seward west, there's not a lot of contractors who want to go this direction."
Kavan said work should start on the project on August 1 and be completed by October 1. Kavan said plans call for G Street to be open for the majority of the project.
Adding the brick element to the project was about a $60,000 addition.
"I think you have a chance here to do it the right way," said Geneva businessman Glen Loontjer at the meeting. Loontjer's business spans nearly one block of the project. "We get a lot of compliments on how nice our downtown looks…it would be silly not to spend the $60,000 for the bricks."
The city council opted to not pursue a street-lighting project on N. 9th Street at this time. A $350,000 CDBG grant is going to help fund the project.
"We're going to have one of the nicest entrances into a community in Nebraska," Geneva Mayor Eric Kamler said.
The city council also unanimously approved a $459,808.36 bid from Werner Construction for concrete paving and sanitary sewer improvements on 19th Street and a small portion of H Street in the city's new housing development area, east of the Fillmore Central Elementary School and north of the Fillmore County Hospital. Werner and The Diamond Engineering Company of Grand Island bid on this project.
The street will be 38-feet wide. Kavan recommended the city accept the Werner Construction bid.
"I am confident they can accomplish both projects in the same time frame," Kavan said. "They are a very competent contractor. The concrete prices were quite a bit better than I expected."
Werner's bid was about $150,000 lower than the engineer's estimate for the project.
"We have a chance now to make these lots more affordable," Geneva City Administrator Kyle Svec said. "I see this becoming much more workable."
The city council also discussed the JEO Consulting Group study of annexing 13th Street to the city's northern most entrance for almost a half hour last Monday. Jeff Ray with JEO presented the annexation study, which identifies 14 parcels for potential annexation. Ray noted that the parcels need to be all touching; strung together and urban in nature to make the entire one-plus mile annexation work.
"There are several dependencies that need to happen to make this annexation work," Ray said. "The proposed development to the north is spearheading this…and, it's over one mile from the current area…you have to find a path back to the community to make this work."
The city council discussed several funding possibilities for the sewer and water extensions. Making these extensions large enough for future growth were also discussed, as well as what the wishes of one business already located in the area were. Also discussed was potential revenue gained by the city in the annexation area. Extension costs of $2 million have been mentioned. Estimated annual benefits of $35,000 per year were mentioned.
"I'm just wondering where the money is going to come back from," Udell said.
Agriculture land in the annexation area would also lose its greenbelt status and would be taxed 100 percent of valuation rather than the possible 70 percent. The City of Geneva would also take in the bridge and roadway once annexed. Additional possible business growth in the area was also mentioned.
"The annexation process is not a fast process," Ray said. "I think time is on your side."
No action was taken.
Additional April 1 meeting notes included:
• Geneva resident Tom Ortgies appeared before the city council to discuss a Complaint Form he submitted on a dangerous dog, pit bull, that a N. 12th Street neighbor has. Ortgies said the dog attacked another dog last year and it has shown aggression towards him and his wife. Ortgies also mentioned City Regulation No. 94.005, Dangerous animals, regulations.
"I want something done," Ortgies said.
Svec and City Attorney David Solheim will look into the complaint.
"I want to see pit bulls out of Geneva as much as you do," Kamler said.
• Kamler noted the new Official City of Geneva Seal, which was shown in front of the city council meeting room line-up. He said the new seal will be used on official city correspondence and features several elements that pay homage to the city's history.
"I just though we could do a little better," he said.