Neb. 3rd District No. 1 Ag. District In Country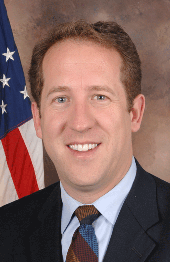 By Cong. Adrian Smith
Nebraska's Third District is the number one agriculture district in the country, but red tape churned out by the Obama administration threatens to undermine producers' success. A May 2015 report by the Competitive Enterprise Institute found the annual cost of federal rules and regulations has grown to nearly $1.9 trillion. While the rapid growth of government has impacted all economic sectors, many recent regulations have targeted American agriculture.

The administration's unprecedented regulatory expansion through its Waters of the United States (WOTUS) rule remains one of the top concerns for Nebraska farmers. The Clean Water Act intentionally limited the Environmental Protection Agency's (EPA) jurisdiction to navigable waters. Unfortunately, the Obama administration has not listened to Congress or the American people and is now trying to unilaterally expand its regulatory jurisdiction to include virtually all water flows, from ditches to prairie potholes, even on private land.

Nebraskans are rightfully concerned this rule will severely harm our agriculture economy by increasing costs and uncertainty for producers, who are already great stewards of the land. Washington bureaucrats should never have control over the puddles and irrigation ditches on rural farmers' property. Though the Obama administration has finalized WOTUS, the Regulatory Integrity Protection Act passed by the House with my support would require the EPA to withdraw the rule. We will continue taking action in the House to prevent WOTUS from going into effect.

Regulation has also created barriers to biofuel production, especially for ethanol. In late May, the EPA released disappointing Renewable Volume Obligation (RVO) targets for biofuels under the Renewable Fuel Standard (RFS). Ironically, the EPA blamed "constraints in the fuel market" for its decision. Despite record harvests showing the supply exists, excessive government regulation continues to prevent this clean, efficient, and affordable fuel source from reaching consumers.

In April, I introduced H.R. 1736 to fight arbitrary ethanol regulations and expand consumer choice at the fuel pump. This legislation would extend to E15 the same waiver from EPA volatility limits already granted to E10, allowing these blends of ethanol to be sold year-round. Because E15 is less volatile than E10, there is no reason not to extend this waiver. The USDA also recently announced plans to make a large investment in blender pumps. These are exciting opportunities to boost biofuel production in our country, and the EPA must stop undermining these efforts with excessive red tape.

Additionally, the Obama administration issued a new ruling just this week to ban trans fat. This latest regulation comes after the administration's Dietary Guidelines Advisory Committee (DGAC) released recommendations for Americans to decrease red meat consumption based on non-nutritional factors. I have already joined many of my colleagues in sending letters to the U.S. Department of Agriculture and the U.S. Department of Health and Human Services, expressing my concerns about inconsistencies within the report and the DGAC's lack of focus on sound science.

We must stand against these regulations which threaten Nebraska agriculture's ability to help feed the world. I invite you to partner with me on my Regulation Rewind initiative, which I am continuing this year to fight back against the overreach of the federal government. Please visit my website at www.AdrianSmith.house.gov/RegulationRewind to see an updated list of our efforts and to contact me with your examples.

Given more certainty and fewer regulatory hurdles, Nebraska producers can meet the wide-ranging demands of a growing world. I will continue to work with and for you to promote American agriculture, energy, and consumer choice.