Novak Artwork In Calendar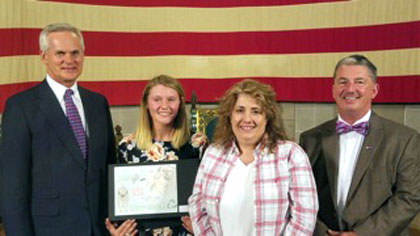 The artwork of 13 Nebraska students will be featured in the 2018 "Nebraska: Don't Waste It!" environmental calendar. The statewide contest is sponsored by the Nebraska Department of Environmental Quality (NDEQ) and focuses on the importance of waste reduction, recycling and litter cleanup.
The students whose submissions were selected for the 2018 calendar were invited to a ceremony at the State Capitol on Friday, August 4, where they were honored by Lt. Gov. Mike Foley and NDEQ Director Jim Macy. Each month, the calendar features one of the 12 winning environmental posters. A 13th winner's artwork provides the cover for the calendar.
The entry featured on the cover was submitted by Jessica Gooder, a sixth grade student from Kenesaw Public School, Kenesaw.
The other 12 winners who are featured in the calendar include Macey Novak, a ninth grade student from Fillmore Central, Geneva.