Odego Class Visits History, Tourism Sites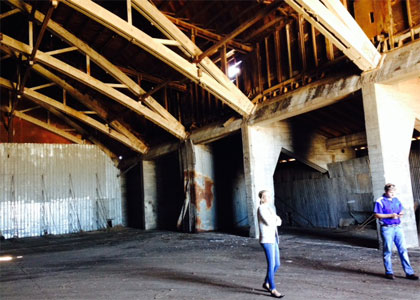 The "Odegeo. . .Leadership for Fillmore County" class visited museums and historical sites for their October History and Tourism session on October 18.
The group first traveled to the Strang Museum where Janet Lentfer told some interesting stories of the items housed in the museum.
The next stop was the Ohiowa Auditorium where Carol Kapperman told the history of the auditorium and all the events that take place now at the facility. The class enjoyed a break at the Ohiowa Café which was sponsored by Waddell & Reed.
The group also traveled to the Maple Grove Sale Barn near Tobias where Bob and LaDean Endorf took the group on a tour of the historic Maple Grove Sales Pavilion and Farrowing Barn that was built in 1912.
The next stop was the three World War ll memorials north of Milligan. Shirley Brunkow and Dorothy Novak met the group and told interesting stories of finding information on the soldiers that were killed in the crashes while training at Fairmont Army Airfield during World War ll.
The class next traveled to Exeter were the class enjoyed lunch at John E's. The lunch was provided by Generations Bank, Farmer & Merchants Bank, Milligan Insurance Agency and FNIA.
After lunch, the group went to St. Stephen's Catholic Church where Fr. Steve Tomlison told of the historic church and newly built Fellowship Hall.
The group viewed the historical marker on State Hwy 6 where Doug Rung talked about the World War II soldiers getting off the train and being trucked to the Fairmont Airbase. He also stated this entrance is the road to take to enter the front gate to the Airbase.
The group then proceeded to the airbase where Doug talked about where the buildings were located during the training for the young pilots and told stories from the time when the base was active. They then went to the Fillmore County Museum where the Fillmore County Historical Society gave the members a tour of the two facilities. The Fairmont Creamery Building/Ashby Building and the McClellam Drug Store. The class enjoyed root beer floats sponsored by the Fillmore County Farm Bureau.
The last stop of the day was at the Geneva City Auditorium that was built in 1915. Pat Mau, President of the Cinema Association, told the group that the Rialto II Theater is run by volunteers and just one paid part-time staff, and also highlighted that the new digital program and seats have been installed.
The day was wrapped up by Brandy VanDeWalle who spoke to the group on "Being a Leader."
Persons interested in learning more about the Odegeo. . . Leadership for Fillmore County should contact the Fillmore County Development Corporation at 402-759-4910 or email lentfer.fcdc@genevamail.com.