Ogren arrested; appears in court to face 29 counts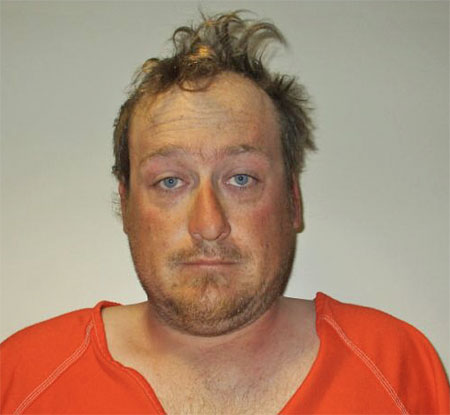 By Signal Staff
Aaron Ogren, 30, of rural Exeter, currently incarcerated, appeared for an arraignment hearing in the Fillmore County Court on Wednesday, April 10. Ogren was arrested without incident on Tuesday, April 9, in the Fillmore County Courthouse after a civil hearing (Ronald Pavel vs. Aaron Ogren) took place in the Fillmore County District Court.
Ogren appeared in a Fillmore County Jail uniform (unable to post the $250,000 bond) at the morning hearing before Fillmore County Court Judge Michael Burns. Ogren is currently charged with one count of Theft by unlawful taking, a Class 2A felony; two counts of Prohibited sale of livestock, both Class 3 felonies; and 26 counts of Cruelty to animals, all Class 4 felonies. The investigation being conducted by the Nebraska Brand Committee, the Fillmore County Sheriff's Office (FCSO) and the Nebraska State Patrol (NSP) is still ongoing.
Ogren appeared without counsel and told Judge Burns he would like an attorney and could hire one on his own. Judge Burns granted the request and set the matter for a further arraignment hearing on Wednesday, May 1, at 10:30 a.m. Bail was then discussed.
Fillmore County Attorney Jill Cunningham noted she expects additional charges being filed against Ogren, as another calf had died and it appears 53 cattle were transferred illegally. She requested a much higher bond considering these additional pending charges, the fact that the defendant has a failure to appear in a civil case filed last month in York County and a number of bad check cases.
When asked by Judge Burns about bail, Ogren responded, "I thought the bond was set plenty high to start."
Judge Burns increased the bond slightly to $300,000, 10 percent. Ogren was taken by FCSO deputies back to jail.
Court records indicate while a criminal investigator for the Nebraska Brand Committee waited for Ogren at 1817 Road C during serving a search warrant on April 9, he observed several dead calves immediately. While walking through the lots with Ogren, the investigator encountered piles of dead cows, a dead horse, and cows and calves in various stages of health walking through a knee-high mixture of very wet mud, urine and manure. When questioned about the death loss, Ogren allegedly responded he has been taking care of cattle from Colorado and that a bunch of cattle had died due to the past hard winter.
The investigator also reported he noticed no fresh water available to the cattle, along with debris all over the lot and animals dead and dying in all kinds of conditions. He deemed the lots as totally unfit conditions with death losses way above expected industry totals for the weather that was encountered. He stated that Ogren's weather-related deaths were not believable. After the inspection on Tuesday and Wednesday, 253 head were seized. Local veterinarians were employed to body score the cattle that were seized. Many were returned to their owners, while about 50 remain in custody of Fillmore County and are being cared for northwest of Geneva.
While serving a search warrant at 1817 Road C, another search warrant was made for 515 South Union Avenue in Exeter. Alleged, and more-than-likely owners of the cattle include Jason Miller, Lazy V of Mack, Colo., Becky Luzum, Fillmore County and Paula Bischoff.
Documentary evidence, checks—cashed and uncashed, computers and documents at both locations allegedly provide evidence for crime. Documentation allegedly show several transactions between Luzum and Kenneth Eller and Ogren and Ogren Bros. Trucking for the purchase of up to 80 head of bred cattle. Ogren had told Luzum he had sold 78 calves for an average of $1,068 per head at Huss Livestock in Kearney. When contacted by law enforcement officials, Huss Livestock workers indicated Ogren had not sold cattle there since 2013.
Miller told law enforcement officials that he had provided Ogren with 60 head of cattle. He then alleges that a good portion of these cattle were returned to Luzum and Eller. Beau Addison of Grand Junction, Colo., alleges that he received a $87,300 Ogren Bros. Trucking check on February 19, 2019, for the purchase of calves. The check was later returned as account closed.
In another legal matter, Ogren, Ogren Bros. Trucking, Eva Turbiville, Sara Ogren and Justin C. Ogren are named in a civil suit being made by Fillmore County on behalf of a long list of people for the cattle that were seized on April 9-10 in Fillmore County. A copy of this legal publication appears in this edition.