Panthers Compete At Tri County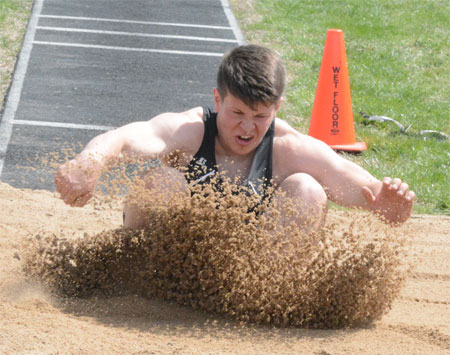 Jake Stoner and Erin Schmidt paced the Panther effort at the 2019 Dan Tesar Invitational Track Meet at Tri County. Stoner earned four medals on Tuesday, April 16, including a first-place finish in the long jump with a leap of 19-feet, 10.75-inches. Schmidt took gold in the girls shot put with a heave of 36-10.5.
The Fillmore Central boys landed in sixth place at the 10-team invite with 50.5 points. Wilber-Clatonia was tops for the boys with 108 points. Lincoln Lutheran was next and Fairbury took third. The Panther girls scored 30 points to place eighth. Lincoln Lutheran was the girls champions with 120.33 points. Fairbury was next and Johnson County Central took third.
Stoner was solid in the sprints in rural DeWitt. The Panther sophomore placed second in the 100-meter dash in 11.71 seconds. He also placed third in the 200-meter dash in 23.58 seconds behind SNC conference foe Kyle Baumert of Sutton. His fourth medal was silver as he teamed up with Parker Uldrich, Noah Monroe and Trenton Srajhans for second place in the 400-meter relay in 46.69 seconds.
Other top finishes for the Panther boys last Tuesday were turned in by: Connor Asche, fifth, shot put, 41-8; Uldrich, sixth, pole vault, 10-6; 3,200-meter relay squad of Garrett Nichols, Hunter Verhage, Isaiah Lauby and De Maciel, fourth, 8:53.33; Srajhans, fifth, 400-meter dash, 55.44; Maciel, 800-meter run, 2:09.54; Nichols, 1,600-meter run, second, 4:53.61; and 1,600-meter relay team of Srajhans, Lauby, Maciel and Nichols, sixth, 3:53.94.
Next best for the Panther girls behind Schmidt was the 3,200-meter relay squad of Jordan Broman, Macy Scott, Jacki Schelkopf and Abby Nichols, who took third in Tri County in a time of 10:39.08. The home team won the event in 10:17.42. Fairbury was second.
Additional medals were won by: Lauryn Monteforte, fifth, 3,200-meter run, 13:50.80; Teneal Barbur, sixth, 3,200-meter run, 13:51.81; Scott, third, 800-meter run, 2:37; Broman, fourth, 800-meter run, 2:39.54; and the 1,600-meter relay team of Broman, Scott, Nichols and Schelkopf, sixth, 4:33.17.
The Panther thinclads travelled to Shelby on Tuesday and will compete in the 2019 SNC Championships on Saturday in Milford.