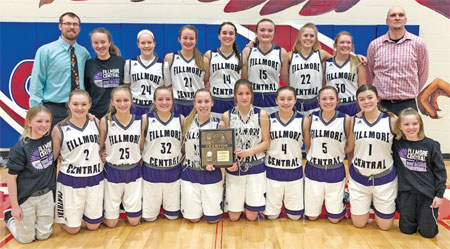 By GREG SCELLIN
Signal Editor
The Fillmore Central girls will be hooping it up in Lincoln this week. The 22-4 Panthers will be the third seed in the 2019 Class C-2 NSAA Basketball State Championships. FC draws 20-5 Lourdes Central Catholic in the opening round on Thursday, February 28, at 8:45 p.m., at Lincoln Southwest High School. With a win over the Lady Knights, the Panthers will face the Crofton/Blue Hill winner at 3:45 p.m., at the Devaney Center on Friday afternoon.
FC parlayed a 21-11 third quarter surge to get past Freeman, 54-34, in the C2-3 District final at Crete High School and advance to state for the first time since 2013. The Panthers also made State in 2004. FC has yet to win a tournament game in Lincoln.
Both teams came out shooting cold and playing strong defense on Friday, February 22. The Panthers also came out with full-court press at times—a new wrinkle for the post-season. The score was 9-4 FC after one period and a 6-0 Falcon run and some missed Panther free-throws had the scoreboard read 18-14 FC at intermission.
"I think running the press and our man might have had them a little tired and affected our shooting," Panther coach Shad Eberhardt said. "And, I'm sure there were some nerves…but they (Freeman) are a solid team…a very good team. You beat a team like 20-4 Yutan twice…that says a lot."
FC hit the third period running, scoring the first 10 points of the quarter. A Jackie Schelkopf steal, lay-up and free-throw, capped an old-fashion three-point play and had the Panthers up 28-14 midway through the stanza.
"I told them at halftime, the shots were gonna start falling," Eberhardt said. "I also think we started forcing some turnovers and wore them down a little."
Freeman (16-11) had little answers in the second half. A Macy Scott jumper maintained the lead heading into the fourth period at 39-25. An Abby Nichols trey to start the final period had FC up 42-25. The Falcons were forced to foul midway into the fourth period and the game finished with free throws and substitutions.
Erin Schmidt paced the FC offense with a dozen points. Schelkopf scored 11 points and Halle Theis added nine points. Nichols scored eight points (two 3-pointers) and both Scott and Lexi Theis netted seven points. Schelkopf, H. Theis and Scott all knocked down a trey. The Panthers were 11-for-20 from the charity stripe.
Now, to tangle with Lourdes CC at State. FC has won 16 of its last 17 games and heads into Lincoln the winners of nine straight.
"These girls have worked their tails off," Eberhardt said. "This means everything. It's just so nice to see the progression. I'm super excited. I can't wait."
Lourdes CC lost its sub-district final against Yutan 41-37 and then came back eight days later and downed the Chieftains 34-28 in its C2-7 District final. The Lady Knights have gone 1-2 against Class D-2 favorite Falls City Sacred Heart this season. Other losses came to State qualifier Class D-1 Archbishop Bergen and to Class C-1 Auburn. Lourdes' biggest wins include decisions over Class C-1, 17-8 Omaha Brownell-Talbot and 20-3 Class C-1 Sidney, Iowa. With a win over the Lady Knights, FC will play the Crofton/Blue Hill winner at 3:45 p.m., at Devaney on Friday.
Class C-2 State favorite Hastings St. Cecilia (23-1) draws defending State Champion Superior in its opening-round contest. Oakland-Craig and Ponca are also on the Blue Hawks side of the bracket. The Class C-2 State final is scheduled to tip-off at 4:30 p.m., this Saturday afternoon at the PBA.