Panthers Second At Home Invite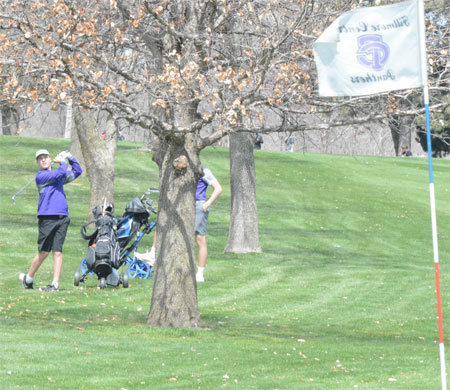 Fillmore Central earned runner-up honors at the 2019 FC Golf Invitational. The Panthers were 20 shots behind invite winner Sutton 372-392. Heartland was two shots back at 394. Thayer Central took fourth, 420, and Sandy Creek was fifth, 433. Shickley was sixth in the team standings with 443 and E-M was next with 453 at the nine team invite played on Tuesday, April 9, at the Hidden Hills Country Club in rural Geneva.
Koby Head lead the Panthers with a third-place medal with rounds of 46 and 41 for an 87. Deshler's Adam Roth shot the low round on April 9 with a 40 and 42 for an 82. Benjamin Mestl of Heartland carded rounds of 40 and 46 for an 86. Panther Brock Tatro carded rounds of 49 and 44 for a 93 and seventh place. Teammate Carson Tatro combined rounds of 50 and 52 for a 102 and third place. Carson Scott rounded out the top four for the Panthers with rounds of 51 and 59 for a 110. Nick Andrews carded a 137.
Caleb Hendrickson of Shickley earned a 14th-place medal with rounds of 52 and 50 for an 102. Josiah Kamler fired rounds of 53 and 58 for a 111. Josh Swartzendruber carded a 113 (50 and 63) and Sam Marheim came in at 117 (62 and 55). Nolan O'Brien had a 123.
E-M was led by Trever Zelenka who carded a 105 (55 and 50). Timberwolf Joel Klemm had a 112 (53 and 59) and James Becker had a 114 (55 and 59). Theron Odvody had a 122 (59 and 63) and Nick Hayek had a 151.
Scores for the FC junior varsity were Ryan Poppert, 120; Gunnar Chapman, 131; Kellan Wusk, 138; and Jacob Nichols, 148.