Panthers Send Four To Omaha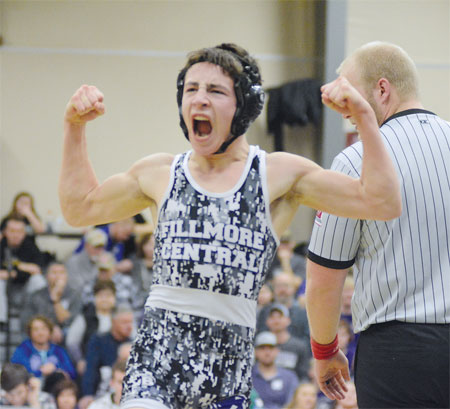 Fillmore Central had four wrestlers qualify for the 2019 NSAA State Wrestling Championships after two days of competition at the talent-laden C-3 District Meet in David City. And, two Panthers were just one win away from Omaha, while a seventh grappler made it until Day 2 at Aquinas High School.
Panther heavyweight Riley Moses bulled through his district bracket, easily pinning his three opponents in under five and one-half minutes total. Moses heads to Omaha 40-2 and a favorite to win gold. The Panther senior will face 23-10 Mitchell sophomore Keegan Weiss in the opening round this Thursday afternoon.
Gavin Hinrichs went 4-1 in David City to earn third at 160 pounds. Three of the FC junior's wins were by pinfall including a consolation final pin of Lenners from Freeman. Hinrichs will square off with 33-9 Conner Halverson, a junior from Gordon-Rushville, in the first round on Thursday afternoon in Omaha. Hinrichs is 32-10 on the season.
Aidan Trowbridge punched his ticket to Omaha with a thrilling 8-7 decision over Eli Wegrzyn of Lincoln Christian in the heart-break round. The match was tied 7-7 with 38 seconds to go before Trowbridge scored an escape.
"I've been coaching wrestling for 20 years," FC head coach Ryan Komenda said. "And, the heart-break match that Aidan won 8-7 was the most amazing match I've ever coached."
Trowbridge went 3-2 in David City—losing two matches to Milford's Eli Vondra (31-17). The Panther freshman is 17-11 on the year and will face 33-6 sophomore Dru Mueller in the opening round in Omaha. The Logan View wrestler was the C-2 District champion.
Panther 120-pounder Conner Nun caps the FC contingent in Omaha. The Panther sophomore finished 3-2 in David City to earn fourth. Nun had two pin wins in the district meet. Nun (11-22) will square off 25-5 Stanton senior Zak Hansen in his opening match at State. Hansen was the C-2 District champion.
Panthers Dillon Fushia (30-12) and Tanner Kline (16-8) both lost their heart-break round matches. Fushia was 1-2 at 106 pounds and was pinned by Vandenberg of Aquinas in the fifth-place match. Kline fell to Kuehler of Pierce in his fifth-place match. He was 2-2 on the weekend.
Noah Monroe was 1-3 at the District Meet and finished his season at 18-25. Jared Stephens (4-30) and Hunter Stewart (2-15) were unable to garner wins.
Komenda tabbed Trowbridge as his team's Wrestler of the Week and named Hinrichs as his squad's Practice Wrestler of the Week.
Dillon Fushia (30-12) place is unknown and scored 4.0 team points.
• Champ. Round 1 – Dillon Fushia (Fillmore Central) 30-12 received a bye () (Bye)
• Quarterfinal – Jace Goebel (Syracuse) 25-15 won in the ultimate tie breaker over Dillon Fushia (Fillmore Central) 30-12 (UTB 9-6)
• Cons. Round 2 – Dillon Fushia (Fillmore Central) 30-12 received a bye () (Bye)
• Cons. Round 3 – Dillon Fushia (Fillmore Central) 30-12 won by fall over Mason Kuszak (Centura) 24-21 (Fall 2:44)
• Cons. Semi – Hunter Vandenberg (Aquinas Catholic) 32-11 won by fall over Dillon Fushia (Fillmore Central) 30-12 (Fall 2:30)
Aidan Trowbridge (17-11) placed 4th and scored 11.0 team points.
• Champ. Round 1 – Aidan Trowbridge (Fillmore Central) 17-11 received a bye () (Bye)
• Quarterfinal – Eli Vondra (Milford) 31-17 won by tech fall over Aidan Trowbridge (Fillmore Central) 17-11 (TF-1.5 5:28 (16-0))
• Cons. Round 2 – Aidan Trowbridge (Fillmore Central) 17-11 won by fall over Jonah Reed (Freeman) 7-19 (Fall 0:52)
• Cons. Round 3 – Aidan Trowbridge (Fillmore Central) 17-11 won by fall over McClain Adams (Centura) 7-18 (Fall 4:49)
• Cons. Semi – Aidan Trowbridge (Fillmore Central) 17-11 won by decision over Eli Wegrzyn (Lincoln Christian) 26-12 (Dec 8-7)
• 3rd Place Match – Eli Vondra (Milford) 31-17 won by tech fall over Aidan Trowbridge (FC) 17-11 (TF-1.5 3:50 (16-0))
Conner Nun (11-22) placed 4th and scored 13.0 team points.
• Champ. Round 1 – Conner Nun (Fillmore Central) 11-22 received a bye () (Bye)
• Quarterfinal – Hunter Gilmore (Arlington) 40-1 won by fall over Conner Nun (Fillmore Central) 11-22 (Fall 0:39)
• Cons. Round 2 – Conner Nun (Fillmore Central) 11-22 won by fall over Grant Wells (Lincoln Lutheran) 10-33 (Fall 0:55)
• Cons. Round 3 – Conner Nun (Fillmore Central) 11-22 won by fall over Bryce Draeger (Syracuse) 2-20 (Fall 0:58)
• Cons. Semi – Conner Nun (FC) 11-22 won by forfeit over Noah Scott (Aquinas) 32-16 (For.)
• 3rd Place Match – Jack Chapman (Milford) 35-13 won by fall over Conner Nun (Fillmore Central) 11-22 (Fall 0:39)
Noah Monroe (18-25) place is unknown and scored 3.0 team points.
• Champ. Round 1 – Noah Monroe (Fillmore Central) 18-25 received a bye () (Bye)
• Quarterfinal – Carter Jensen (Pierce) 33-17 won by fall over Noah Monroe (Fillmore Central) 18-25 (Fall 1:36)
• Cons. Round 2 – Noah Monroe (Fillmore Central) 18-25 won by fall over Robby Otero (Norfolk Catholic) 6-20 (Fall 1:40)
• Cons. Round 3 – Carter Fjell (Shelby-Rising City) 18-29 won by decision over Noah Monroe (Fillmore Central) 18-25 (Dec 7-1)
Jared Stephens (4-30) place is unknown and scored 0.0 team points.
• Champ. Round 1 – Kile Bentley (Centura) 40-6 won by fall over Jared Stephens (Fillmore Central) 4-30 (Fall 0:26)
• Cons. Round 1 – Jacob Byers (Lincoln Christian) 17-26 won by fall over Jared Stephens (Fillmore Central) 4-30 (Fall 0:45)
Gavin Hinrichs (32-10) placed 3rd and scored 18.0 team points.
• Champ. Round 1 – Gavin Hinrichs (Fillmore Central) 32-10 won by fall over Jordan Meehan (Arlington) 12-22 (Fall 2:23)
• Quarterfinal – Gavin Hinrichs (FC) 32-10 won by fall over Jarin Pope (Palmyra) 12-20 (Fall 3:28)
• Semifinal – Jacob Ray (North Bend Central) 32-4 won by major decision over Gavin Hinrichs (Fillmore Central) 32-10 (MD 12-4)
• Cons. Semi – Gavin Hinrichs (Fillmore Central) 32-10 won by decision over Raymond Lux (Norfolk Catholic) 24-19 (Dec 3-1)
• 3rd Place Match – Gavin Hinrichs (Fillmore Central) 32-10 won by fall over Garrett Lenners (Freeman) 32-7 (Fall 4:15)
Hunter Stewart (2-15) place is unknown and scored 0.0 team points.
• Champ. Round 1 – Burton Brandt (Syracuse) 34-10 won by fall over Hunter Stewart (Fillmore Central) 2-15 (Fall 1:11)
• Cons. Round 1 – Hunter Stewart (Fillmore Central) 2-15 received a bye () (Bye)
• Cons. Round 2 – Isaac Bittner (Htrs) 28-23 won by fall over Hunter Stewart (Fillmore Central) 2-15 (Fall 1:59)
Tanner Kline (16-8) place is unknown and scored 8.0 team points.
• Champ. Round 1 – Tanner Kline (Fillmore Central) 16-8 won by fall over Ilya Korneev (Lincoln Lutheran) 8-31 (Fall 1:24)
• Quarterfinal – Tad Naiberk (Aquinas Catholic) 27-14 won by decision over Tanner Kline (Fillmore Central) 16-8 (Dec 2-1)
• Cons. Round 2 – Tanner Kline (Fillmore Central) 16-8 received a bye () (Bye)
• Cons. Round 3 – Tanner Kline (Fillmore Central) 16-8 won by fall over Lorenzo Temple (Milford) 8-34 (Fall 0:20)
• Cons. Semi – Dylan Kuehler (Pierce) 31-10 won by fall over Tanner Kline (Fillmore Central) 16-8 (Fall 4:14)
Riley Moses (40-2) placed 1st and scored 26.0 team points.
• Champ. Round 1 – Riley Moses (Fillmore Central) 40-2 received a bye () (Bye)
• Quarterfinal – Riley Moses (Fillmore Central) 40-2 won by fall over Nick Erickson (Pierce) 8-19 (Fall 1:23)
• Semifinal – Riley Moses (Fillmore Central) 40-2 won by fall over Gustavo Duarte (Arlington) 27-14 (Fall 2:20)
• 1st Place Match – Riley Moses (Fillmore Central) 40-2 won by fall over Owen Schramm (Aquinas Catholic) 27-15 (Fall 1:43)