Panthers Take Part In 2019 TC Invite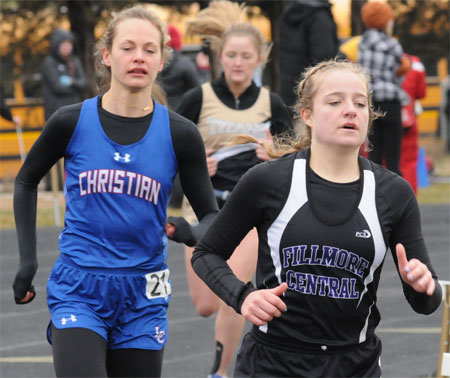 The Fillmore Central boys were seventh in the team standings at the 2019 Thayer Central Track and Field Invite, while the Panther girls landed in the eighth spot in the 12-team meet, which started two hours late due to cold and wet conditions on March 28. Neither FC squad was able to capture an individual or relay championship in Hebron.
Panther sophomore Jake Stoner paced the FC boys' effort with a second-place finish in the 100-meter dash (12.10 seconds) and third place in the 200-meter dash (24.58 seconds). Garrett Nichols finished in third place in the 1,600-meter run with a time of 5 minutes, 2.34 seconds. Teammate Trenton Srajhans clipped the tape in 57.82 seconds good for fifth place in the 400-meter dash.
The squad of Stoner, Isaac Janing, Noah Monroe and Parker Uldrich teamed up to place second in the 400-meter relay (47.90 seconds). The quartet of Nichols, Dakota Nun, Isaiah Lauby and Hunter Verhage combined to earn third in the 3,200-meter relay in 9:30.23. Conner Nun went over 11-feet to place fourth in the pole vault. Conner Asche was slot out of the medals in the shot put. Srajhans was eighth in the discus.
The FC girls had some success in the longer relays. The team of Abby Nichols, Sydney Hiatt, Jackie Schelkopf and Macy Scott combined to take third in the 3,200-meter relay in 11:17.26. Panthers Jordan Broman, Nichols, Hiatt and Scott took fourth in the 1,600-meter relay in Hebron in a time of 4:40.04.
Scott placed fourth in the 800-meter run (2:47.54) and Schelkopf was sixth in the 1,600-meter run (6:38.05). Teneal Barbur was fifth in the 3,200-meter run in 13:53.10. Broman placed fifth in the 400-meter dash in 1:08.82. Erin Schmidt was fourth in the shot put with a toss of 37-feet, 3-inches. Rhiannon Shaner was 10th in the discus.
The Panthers travel to Hastings this Friday, April 5, for a meet at Adams Central.