Quilts of Valor Awarded in Milligan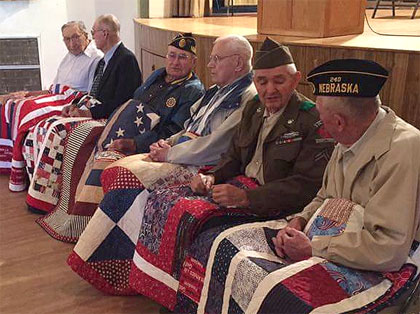 Six U.S. military veterans were wrapped in Quilts of Valor to thank and honor them for their service during the Milligan Veterans program on Sunday, November 6. Awarding Quilts of Valor is a heartfelt way to say thank you for their service and sacrifice.
Janet Wolfteich, member of Piecemakers Quilts of Valor sewing group and American Legion Auxiliary Unit No. 193, told the gathered audience the story and mission of Quilts of Valor. The mission of this national foundation is to "cover service members and veterans touched by war."
All of the quilts awarded to the veterans were made by Piecemakers member Adrienne Capek. Jan and Adrienne wrapped the quilts around recipients Duane Cecrle, Jim Kotas, Emil Kredjil, Arnold Nadherny, Henry Rohla and Don Sluka before an auditorium filled with family and friends.
Jim Kotas served one year in the U. S. Army during World War II. As a P. F. C., Jim was located in Korea during the war. Jim's dad John F. Kotas served in World War I, his brother, Donald, served in the Korean War, his son, Dennis, served in Vietnam and now his grandson, Justin, is a Second Lieutenant in the Army.
Jim was drafted on his 21st birthday, May 23, 1946, at Fort Leonard Wood, Ks. Next, Jim travelled by train to Fort Lewis, Wash., where he received eight weeks of automotive training. From there, he went to Camp Stoneman, Calif., then on to Korea. The trip took three weeks by boat. At the international date line the sea was very rough.
In Korea, Jim was assigned to a motor pool where he inspected and repaired all types of gasoline-powered military vehicles. They were authorized to put in new carburetors, but the parts were not available, so it was Jim's job to repair the old ones. This was all done with hand tools. When Jim left there it took a little over a week to get to Fort Lawton, Wash. (via a different route). This is where Jim was honorably discharged on May 7, 1947.
Emil Krejdl was drafted into the Army on September 13, 1945 to April 18, 1946. Emil then enlisted in the regular Army on April 19,1946, for one year. He was drafted as a Private and then, in the regular Army, he was a Staff Sergeant. Emil was drafted to Fort Leonard Wood, Kan.
After basic training, he was stationed at Walter Reed Hospital in Washington D.C. when World War II was just ending. While at Walter Reed Hospital, Presidents Truman and Eisenhower were seen and General Pershing died at the hospital while he was there. Emil received the Good Conduct Medal.
Duane Cecrle served in the Marines from 1951 to 1953 in active duty and from 1953 to 1959 in the Reserves. His rank was CPL. Duane was stationed in Oceanside, Calif. during the Korean War.
Arnold Nadherny served his country from 1950 to 1953; first as a Private 1st Class and then as a Corporal in the U.S. Army. He was at Camp Cooke for boot camp during the Korean War. Arnie was a truck driver for a motor company. Many times while driving, shells dropped near the road they were driving on. Arnie also drove a Jeep for a Colonel.
He remembers Arnie Capek and others stationed about three to five miles away. He was also able to stop and talk with Wes Buzek in a different group. When he was shipped home, Arnie came under the Golden Gate Bridge. One time, they drove across a pontoon bridge and the enemy would put a spotlight on them as they crossed. Sometimes while driving at night, he remembers a quad 50 gun shooting tracer bullets overhead. Arnie made several road trips to Osage, Iowa to visit his Army buddy, Harold Stricker, and they still call each other.
Henry J. Rohla served five years in the U.S. Navy as a 3rd Class P.O. during the Korean War. He was stationed aboard the U.S.S. Rendova and maintained aircraft. Henry spent two years in active duty and three years in the reserves.
Henry was stationed by San Diego where he maintained aircraft on a touch-and-go carrier. Two of Henry's grandchildren are also in the military. Courtney and her husband Walker are in the Navy. She is a Corpsman (air warfare operations specialist, special forces). Courtney is stationed in Florida. Jacob is a Private First Class in the Marines. He is stationed in Japan.
Don Sluka served one year, 11 months in the U.S. Army as a Corporal during the Korean War. He was stationed in England and Germany.