Quilts Of Valor Presented At Ohiowa Memorial Day Service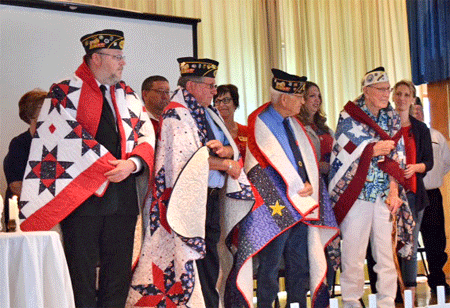 This year's Memorial Day Service in Ohiowa had a special touch for four Veterans. The approximately 175 in attendance had the privilege to learn about the Quilts of Valor program from this year's speaker, Phyllis Schoenholz. In addition, they experienced the presentation of patriotic quilts made with love by a relative of each of the recipients.
The morning service began with the advancement of colors by the Ohiowa American Legion Post No. 193, the Ohiowa American Legion Auxiliary Unit No. 193 and Ohiowa Sons of the Legion Squadron No. 193. Post Commander Tom Ortgies welcomed the audience and shared about the 150th anniversary of Declaration Day.
The stacking of rifles preceded the lighting of three candles in memory of deceased Veterans of this last year–Weldon Bornschlegl, Jess Schropfer and Darrel Sieber. This year's Ohiowa Girl and Boy State citizens, Hanna Dunse and Garrett Whitley, addressed the audience. Special music was provided by Lynette, Tessa and Hanna Dunse, who sang "In Flanders Fields."
Keynote speaker Phyllis Schoenholz shared the history of the Quilts of Valor as well as the process it takes to complete a quilt. After roughly 25 hours, a patriotic quilt is ready to be given to a Veteran who has been nominated by a family member or friend.
Donna Norrie, as a representative of the Fillmore County Legion Riders, announced the four Veterans who would receive their Quilt of Valor. They were Michael Mohr, Thomas Ortgies, Donald Krupicka and Earl Brandes.
Michael Mohr served in the US Army Reserves, Air Force and Army National Guard. His quilt was presented by his mother-in-law, Glenda Gaston. Thomas Ortgies was in the US Navy, serving in active duty and inactive reserves. His quilt was presented by his son, Jeff. Their quilts were made by their grandmother-in-law and mother-in-law, Dorothy Meyer.
Donald Krupicka also served in the US Navy. His niece, Jody Houck, presented the quilt she made as a member of the newly organized Peacemakers Quilts of Valor group.
Earl Brandes enlisted in the US Marine Corp in 1939. His quilt was designed and crafted by his granddaughter, Krissy Ozenbaugh, and was presented by his granddaughters Krissy Ozenbaugh and Kylie Penke.
The service concluded at the Ohiowa Public Cemetery. The slight breeze provided a breath-taking view of the Avenue of Flags as the backdrop for the laying of the wreaths, which was followed by the gun salute and taps.
The Ohiowa American Legion Auxiliary then served a roast beef sandwich dinner to 200 people at the Ohiowa Legion Hall.