Roadside Cleanup Join Hands Day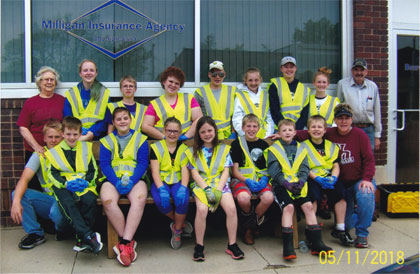 During the first two weeks in May, the WFLA Lodge sponsored a Join Hands Day. Join Hands Day is a nationwide joint effort by the fraternal to team up with youth organizations to do community service. This year members of the Milligan WFLA Lodge joined hands with the Junior Auxiliary of H.S.S.K. American Legion Post Unit No. 240 on May 11, after school, to pick up roadside trash two miles south of Milligan.
After clean-up, the Junior Auxiliary sponsored a lunch, serving hot dogs, chips, sodas and goodies, brought in by the Lodge members.