Second Half Scoring Woes Doom 'Wolves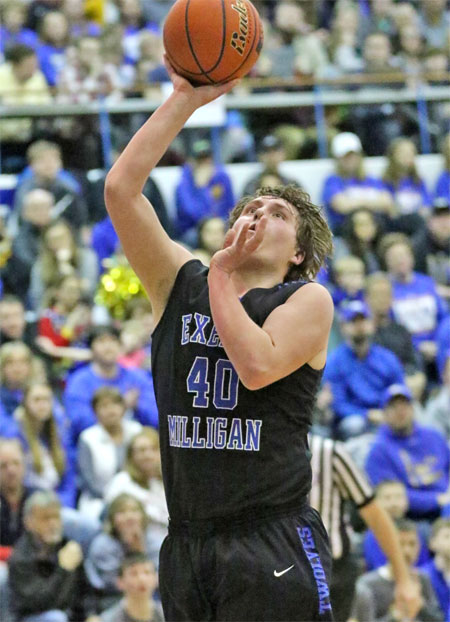 Exeter-Milligan gave undefeated Riverside all it wanted for a half of basketball Thursday night, before scoring only 18 second-half points in a 67-48 loss to the Chargers. Riverside would go on to take third place in the 2019 NSAA State Class D-2 Boys Basketball Tournament. The Timberwolves would end their 2018-2019 campaign at 21-5.
E-M fell behind 10-4 on March 7 at Lincoln East before scoring 11 of the last 13 points in the first period and took a 15-12 advantage heading into period No. 2. The seventh-seeded Timberwolves managed to keep pace with the high-flying Charger offense throughout the second quarter and even led once by as many as five points. E-M trailed by just five points at intermission—35-30.
Timberwolf head coach Dean Filipi commented he was proud of how his team responded to the Riverside scoring runs in the first half. But, he also commented, that he knew the Charger shots would eventually start falling at a faster rate. He was also proud of this team's defensive effort in the first half.
Behind a game-high shooting display from Tredyn Prososki, Riverside owned the third and fourth quarters, 15-7 and 16-11. The 5-10 Charger guard canned five 3-pointers and scored 32 points in the win. All-state post Joseph Bloom added 10 points.
The Timberwolves were led by Jackson Beethe's 14 points. Both Spencer Pribyl and Max Zeleny added a dozen points. Colton Bossaller drilled two 3-pointers and scored nine points. Mitchell Manning added a free throw. E-M finished 16-for-24 from the charity stripe in a game where 40 fouls were called.
Seniors on this year's squad included Pribyl, Bossaller, Manning, Johnny Babula, Theron Odvody, Trever Zelenka and Luis Jaegermann.