Sen. Fischer: Challenging the Iran Deal…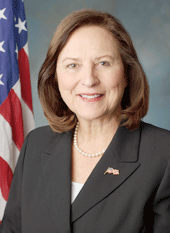 By Sen. Deb Fischer
The eyes of the world were on Vienna this month as President Obama announced a nuclear agreement with Iran. This pact and its details will be thoroughly reviewed by members of Congress over the next 60 days. Americans will engage in a robust debate on the merits of this agreement, how it went down, and what it means for our national security.
Like many of you, I am concerned that the Obama administration has conceded too much in this deal. The president stated that we "give nothing up" by "testing" this agreement's ability to halt Iran's nuclear ambitions. I disagree with this assessment.
The international sanctions regime took years to assemble. It also remains the most effective method of imposing costs on Tehran for its destabilizing behavior.
At this point, it is clear that the United States has made troubling concessions to the Iranians in several areas. For example, the Obama administration insisted that under this deal inspectors would have access to Iran's nuclear facilities"anytime, anywhere." But this agreement falls short. International Atomic Energy Agency (IAEA) inspectors will only be able to access facilities, as President Obama characterized it, "when necessary." Instead of a simple and straightforward mechanism, this agreement creates an elaborate 24-day bureaucratic process to consider inspectors requests. In fact, the agreement does not spell out the IAEA's right to access any facilities and contains other ambiguities that could give Iran ample opportunity to manipulate the process.
Additionally, the IAEA has been urging Iran to disclose its past military-related nuclear activities for years. During an interview in April, Secretary of State John Kerry stated that Iran's divulging of this information would "be part of any final agreement, it has to be." However, in a dramatic reversal, these crucial clarifications about military sites were not tied to sanction relief in this deal. The Obama administration assumes it would take at least a year for Iran to develop a nuclear weapon under the new restrictions. But how can we be fully confident in this one-year "breakout time"? Before we lift any sanctions, we need to close significant gaps in our understanding of their nuclear program and what, if anything, can be validated.
Even more alarming was a provision put into this deal at the last minute. In the eleventh hour of these negotiations, the American delegation agreed to lift U.N. arms embargos on the sale of conventional weapons and ballistic missile technology to Tehran. This was something that Chairman of the Joint Chiefs of Staff Martin Dempsey strongly cautioned against earlier this month. During a hearing of the Senate Armed Services Committee, which I serve on, he said: "We should, under no circumstances, relieve pressure on Iran relative to ballistic missile capabilities and arms trafficking."
We cannot undo sanctions for an agreement that is built on the hope that the Iranian government changes its behavior. This used to be a bedrock principle. In fact, the president himself repeatedly stated that no deal would be better than a bad deal. The president's rhetoric seems to have changed. Now, recent history is being erased, and we are told that the only alternative to this agreement would be war. That is not true.
The American people deserve an open and thorough debate. We deserve the right to challenge a decision of such consequences. Threats of war only stifle this discussion. The security of our nation and the preservation of the free world hangs in the balance. We cannot afford to get this wrong.
She serves as Chairman of the Subcommittee on Emerging Threats and Capabilities
on the Senate Armed Services Committee and Chairman of the Subcommittee on Surface Transportation and Merchant Marine Infrastructure, Safety, and Security on the Senate Commerce, Science, and Transportation Committee.