Shickley's Nolt Published in Journal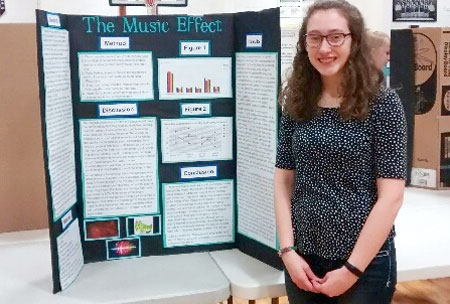 By Lisa Hendrickson,
Shickley Correspondent
Shickley High School junior Alyssa Nolt can add a special accomplishment to her scholarship applications next year: that of being published. In December 2018, Nolt was informed that an article she authored, entitled "Emotional and Psychological Effect of Music on People," was accepted by the Journal of Emerging Investigators. This publication focuses on middle school and high school scientists.
Mr. Justin Elwonger, secondary science teacher for Shickley Public Schools, encouraged his students to submit an article for consideration in conjunction with the Science Fair projects they had chosen to showcase in May 2018. Nolt's investigation focused on the effects of instrumental music on mood. "The hypothesis is as the name suggests (sedative music will calm and relax, exciting music will excite, and neutral music will bring equilibrium), and that the listener's heartbeat will match the tempo of the song they are listening to."
The study involved male and female subjects rating their feelings before and after listening to each type of music. The music was instrumental so that lyrics would have no bearing on the feelings. A correlation of change was recorded and charted. For the most part, the results came out as predicted, except for one surprise. While females reported that exciting music helped them feel energetic and excited, which was expected, males reported a different feeling – that of being more relaxed and calm. It was also noted that the study did not find clear evidence that tempo and heartbeat matched.
When writing a scientific journal article, the process is rigorous. After submitting her first draft, the response came back with pages of suggestions. After much back-and-forth communication, the article was accepted and published.
Nolt would like to pursue a career in music therapy, and this experience helped further her interest in the subject. When asked if she would recommend others to submit an article, she responded, "Yes, it is a good learning opportunity. With the extra work and effort, I gained a better understanding of how it is done and how to be published."
Authorship is credited to both Nolt and Elwonger, but Elwonger credits Nolt for performing the work while he simply provided guidance. The article can be accessed at www.emerginginvestigators.org, then using the search bar with her name.