SHS Homecoming September 21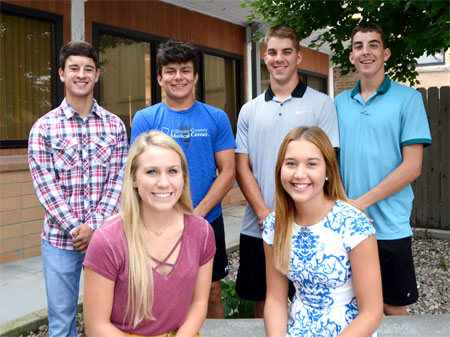 This year's Shickley High School Homecoming Court will consist of (front L-R) Jadyn Kleinschmidt, daughter of Russ and Jodi Kleinschmidt; Caitlin Mosier, daughter of Darrel and Caroline Mosier; (back L-R) Jackson Grote, son of Bill and Melissa Grote; Caleb Hendrickson, son of Dan and Lisa Hendrickson; Isaac Kamler, son of Joe and Gina Kamler; and Josiah Kamler, son of Joe and Gina Kamler.
Shickley High School Homecoming events will begin on September 17 and run through Friday. September 21.
This year's theme is "Blast from the Past." The Homecoming Parade will be starting at 1:30 p.m. on Friday, September 21. It will begin at the school, go through downtown, turn east on Railroad Street and return to the school on Pear Street. Spectators are encouraged to watch the parade at any point along the route. A pep-rally to cheer on the fall sports team will be held immediately after the parade in the school's main gym.
The Student Council is also holding a "Crush Childhood Cancer" Outreach Project fundraiser. This will be held at the end the pep-rally and also before and during the football game. Students, teachers and staff, and community members are invited to participate by swinging away a sledgehammer to annihilate an automobile.
The Homecoming Coronation will begin immediately after the conclusion of the Eagle Football game against Southern on Friday night, September 21, in Shickley.