Smith Enjoys Serving Neb. Third District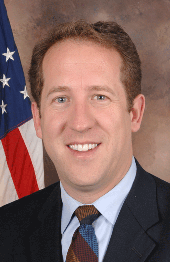 By Cong. Adrian Smith
Service is at the heart of my role as your representative in Congress.
In addition to my legislative responsibilities, a significant part of my job is helping Third District residents access the federal government and get the responses they need.
Through my offices in Washington, D.C., Scottsbluff, and Grand Island, I have the opportunity to meet with Nebraskans and learn how I can be of help.
For those who cannot visit one of my offices, my staff hosts mobile offices throughout the Third District to make our services more accessible.
A mobile office allows constituents to meet directly with one of my staff members about federal issues and take advantage of services such as assistance dealing with federal agencies, ordering flags flown over the U.S. Capitol and booking tours in D.C.
When I am home in Nebraska, I attend as many of these events as I can to speak one-on-one with constituents about their thoughts and concerns.
With a district as large as Nebraska's Third, we strive to provide numerous opportunities for constituents to interact directly with my office about the issues they face with federal agencies.
In addition to our mobile offices, I have launched a Caseworker in Your Community series.
At these events, my congressional caseworkers work tirelessly to assist Nebraskans with federal issues such as Social Security, Medicare, Veterans Affairs, the Internal Revenue Service, and obtaining passports and visas.
In recent weeks, I have enjoyed meeting with many Nebraska student groups visiting Washington, D.C. and taking them on tours of the Capitol while answering their questions about Congress.  Whether you are traveling to the nation's capital for work or leisure, my office is always happy to set up tours and answer any questions.
All Nebraskans traveling to Washington, D.C. are also invited to attend the Nebraska Breakfast.
Every Wednesday morning when both the Senate and House of Representatives are in session, the entire Nebraska delegation meets with constituents in the Senate Buffet in the Dirksen Senate Office Building.
We are proud of this longstanding tradition, now in its 72nd year.
As your representative, it is important for me to hear thoughts and concerns from Nebraskans of all ages.
I created the Third District Youth Advisory Council to regularly solicit input from our district's young leaders about issues facing the federal government.  This forum for high school juniors and seniors meets monthly to discuss opinions, thoughts, and concerns about local and federal issues throughout the school year.  Any students interested in joining the Youth Advisory Council for the 2015-2016 school year should fill out the application on my website before the end of June.
To learn more about each of these opportunities, I invite you to visit my website at http://adriansmith.house.gov or contact any of my offices.
You can also sign up for my weekly e-newsletter to receive issue updates and learn when a constituent service event is coming to your area.
Being your representative in Congress is the highest honor I could experience, and I look forward to staying in touch and learning more about how I can best serve you.