Timberwolves Qualify Seven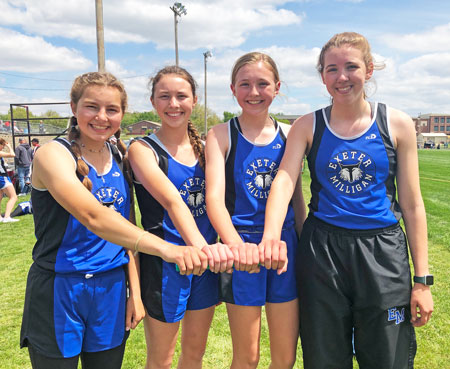 Exeter-Milligan was the girls team champions at the D-1 District Meet on Friday in Pawnee City. The Timberwolf girls scored 85 points and qualified five athletes for Omaha. The E-M boys scored 35 points on May 10 and will be sending two athletes to the 2019 NSAA State Track & Field Championships via the extra-qualifying route.
Timberwolf Katherine White started the qualifying by hitting the auto-qualifying mark and finishing third in the long jump with a leap of 16-feet, 9.75-inches. The rest of the qualifying came on the track.
The quartet of Jaiden Papik, Cameran Jansky, Cammie Harrison and Kate Jansky continued their dominance in the 3,200-meter relay by winning the event in 10-minutes, 35.36 seconds. Papik also punched her ticket to Omaha by winning both the 800-meter and 1,600-meter runs in Pawnee City in times of 2:33.73 and 5:56.70. Both these times have the Timberwolf sophomore in the medal hunt.
Harrison followed her teammate home in the 1,600-meter run in 5:58.78—a top 10 state-qualifying time. The Timberwolf sophomore also bested the field in the 3,200-meter run (13:19.47) and will be competing in Omaha. White placed second in the 100-meter hurdles in 16.53 seconds.
Peytan Brandt was a fast-closing third in the 110-meter hurdles in Pawnee City (16.40) and made Omaha, along with Jindra who took third in the 100-meter dash (11.68 seconds).
White was fifth in the 300-meter hurdles and sixth in the 100-meter dash. K. Jansky and C. Jansky went 3-4 in the 800-meter run.