Timberwolves Win JCC Invite; No. 3 In D-2 Wildcard Points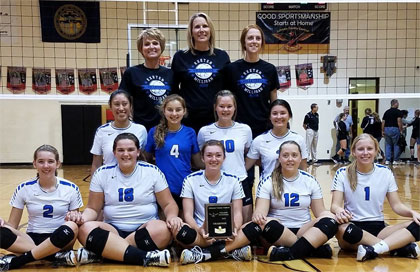 Exeter-Milligan improved to 13-5 and No. 3 in wildcard points in Class D-2 after taking the Johnson County Central Volleyball Tournament title on Saturday.
The Timberwolves downed the host team, Lourdes Central Catholic and Thayer Central on September 30.
Katherine White pounded nine kills against JCC in the 25-12, 25-15 win. Hannah Beethe added eight terminations and Tara Mueller had seven kills. Anna Sluka put up 25 assists. Beethe and Daisy Kanode both belted a pair of ace serves.
Beethe and White both pounded eight kills against Loudes CC. Mueller added five terminations and Kate Jansky had two. Sluka tallied 19 assists. Kanode smashed six ace serves and Beethe recorded two ace blocks. E-M won the match 25-12, 25-20.
The Timberwolves rolled past TC 25-19, 25-18 on Saturday. White slammed 11 kills and Beethe had seven kills against the Titans. Mueller had four kills and Jansky drilled three. Sluka tallied 24 ace sets. White and Sluka both smacked a pair of ace serves. White tallied three ace blocks. Beethe came up with 14 digs.
Last Tuesday in a triangular in Kenesaw, E-M defeated Gibbon 23-25, 25-12, 25-11, and fell to the Blue Devils 13-25, 25-20, 25-20.
White smashed 13 kills against Kenesaw and Sluka tallied 28 assists. Jansky and Mueller both had seven. White nailed 11 kills against Gibbon and Jansky smacked eight. Sluka posted 29 assists. Beethe tallied 17 digs in the match.