Week 3 Trap-shooting Results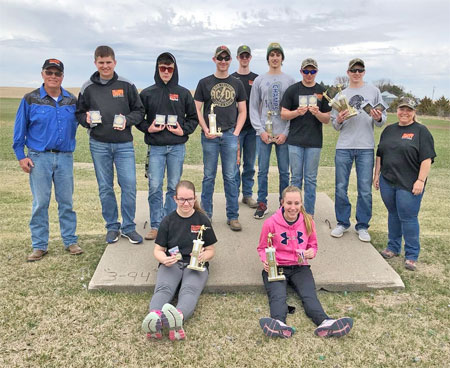 The Fillmore County Trap team enjoyed warmer weather on the third week of the conference season on Saturday, April 6, at the Crooked Creek Gun Club near Aurora. The Fillmore County Trap team had 27 shooters coached by Ron Schropfer and Chris Coash.
In the Senior Division, the team of Kyle Broman, Austin Plock, Trenton Srajhans, Tucker Stutzman, and Brock Tatro were the High Team at 16 yards taking a total of 234 rocks. The crew handled added distance well, earning the High Overall Team award as well with a total of 439 broken rocks.
Brock Tatro lead his team earning High Overall Male Champion with 93 rocks and High 24-25 yard Handicap Champion with 44 broken targets. Jared Engle prevailed as High Overall Male Runner-Up after a three way shoot-off with a score of 90.
Michelle Fessler had another solid week of shooting to earn the title of High Overall Female Runner-Up with 86 broken rocks. Lauryn Monteforte earned Female Handicap Champion with a score of 45 from 20 yards. Michelle Fessler and Lauryn Monteforte's combined score of 170 earned them the Senior Ladies Team Champion award.
Shane Fessler also handled the added handicap distance well and earned the 20-21 Yard Handicap Champion with 44 broken targets. Izayah Morris backed up to 22-23 yards and crushed 44 rocks to earn Handicap Champion from that distance.
High School team scores were (16 yard score/handicap score/total):
Team 1: Austin Plock 46/41/87, Tucker Stutzman 45/37/82, Kyle Broman 47/43/90, Trenton Srajhans 47/40/87 and Brock Tatro 49/44/93.
Total Team scores: 234/205/439.
Team 2: Jared Engle 47/43/90, Lauryn Monteforte 39/45/84, Caleb Hendrickson 48/41/89, Riley Hiatt 48/40/88 and Conner Nun 44/39/83.
Total Team scores: 226/208/434.
Team 3: Carson Tatro 48/41/89, Michelle Fessler 45/41/86, Gunner Gewecke 45/37/82, Kaleb Scheil 46/39/85 and Dillon Vodicka 44/41/85.
Total Team Scores: 228/199/427.
Team 4: Shane Fessler 41/44/85, Devin Kronhoffman 40/33/73, Thayne Kimbrough 36/44/80, Eli Rose 25/30/55 and Izayah Morris 44/44/88.
Total Team Scores: 186/195/381.
Junior high team scores were (50 rocks at 16 yards):
Team 1: Logan Johnson 33, Wyatt Rayburn 42, Treygen Srajhans 30, Jasper Stutzman 44 and Jaeden Wilkins 28. Total Team 177.
Team 2: Zachary Coash 31 and Waylon Rayburn 32.