Week 3 Trapshooting Results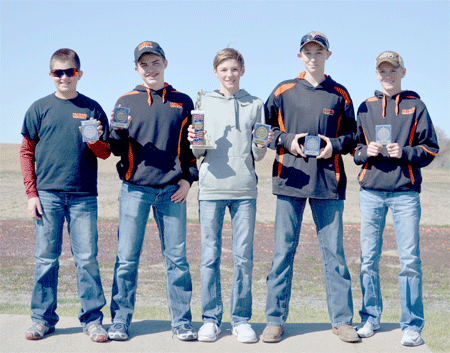 The Fillmore County Trap team participated in the third week of conference on April 2 at the Crooked Creek Gun Club near Aurora. Of the 249 total shooters, 45 were from the local team. The FC team consisted of 22 senior high division shooters and 23 junior high division shooters. The team is coached by Ron Schropfer and Chris Coash.
Finally, a week without snow but the shooters still had to fight the wind to take home some hardware. In the Senior division, Wyatt Deepe knocked down 42 during his handicap round from the 21 yard line. He participated in a shoot-off for that yardage award.
The Fillmore County Juniors brought home the High Junior Team award. The FC squad of Jared Engle, Wyatt Nun, Tucker Stutzman, Carson Tatro and Brock Tatro shattered 211 combined rocks. Carson Tatro nailed 47 rocks to put in him a shoot-off for High Junior Male against two Merrick County shooters. Tatro took him the Runner Up Junior Award at the end of the day.
High School team scores were (16 yard score/handicap score/total):
Team 1: Wyatt Deepe, 41/42/83; Tyler O'Connor, 43/30/73; Logan Peppard, 44/30/74; Garrett Whitley, 46/34/80; and Jesiah Rasmussen, 43/30/73. Total Team scores: 217/166/383.
Team 2: Colton Jacobsen, 40/31/71; Caleb Hendrickson, 44/32/76; Kyle Broman, 36/36/72; Tanner Nun, 24/33/57; and Travien Motis, 39/31/70. Total Team scores: 183/163/346.
Team 3: Parker Trowbridge, 36/42/78; Marissa Nun, 34/34/68; Shane Fessler, 35/38/73; Gatlin Motis, 40/30/70; and Kaleb Scheil, 29/35/64. Total Team Scores: 174/179/353.
Team 4: Lydia Birky, 26/31/57; Lauryn Monteforte, 38/28/66; Chris Lichti, 30/32/62; Dylan Vodicka, 31/26/57; and John Alfs, 37/37/74. Total Team Scores: 162/154/316.
Team 5: Isaac Boon, 34/30/64; and Cody Whitehead, 34/26/60.
Junior high team scores were (50 rocks at 16 yards):
Team 1: Jared Engle, 36; Wyatt Nun, 46; Tucker Stutzman, 36; Brock Tatro, 46; and Carson Tatro, 47. Total Team: 211.
Team 2: Aiden Trowbridge, 32; Riley Hiatt, 35; Conner Nun, 42; Gunner Gewecke, 26; and Trenton Srajhans, 46. Total Team: 181.
Team 3: Izayah Morris, 27; Austin Plock, 36; Thayne Kimbrough, 30; Nathan Nelson, 33; and Ellijah Rose, 38. Total Team: 164.
Team 4: Michelle Fessler, 11; Reagan Alfs, 32; Isaac Janing, 28; Kyler Tweedy, 35; and KayLynn Sieber, 24. Total Team: 130.
Team 5: Adan Alfs, 25; Jorden Engle, 19; and Devin Kronhofman, 19.