What will new fire station cost???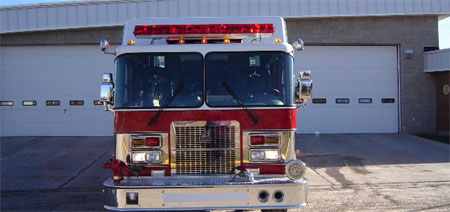 By GREG SCELLIN
Signal Editor
A large portion of the regularly-scheduled April 15 Geneva City Council meeting focused on the new fire station that will be located in Geneva where the old sale barn once stood. The project will be a joint one between the City of Geneva and the Geneva Rural Fire Board.
Residents in the Geneva Rural Fire District voted 119-to-63 in favor of the project in November of last year. Of special note in the bond election was the wording "not to exceed $750,000." A Memorandum of Understanding was shared at the meeting from the Geneva Rural Fire District, which outlined several items including the City of Geneva would be listed as owner of the property; the primary point of contact for the project would be Geneva City Administrator Kyle Svec and that the city would be responsible for routine ongoing expenses. Also included in the one-page document was a notation of a $1.5 million total project cost and that the rural fire district intends to cap its expenses with the project at $750,000. Not included in this amount is the $42,500 that the rural fire district has already paid for its share of the building site and the upcoming Environmental Study.
With bidding time coming up, JEO Consulting Group, Inc., engineers and architects have indicated to Svec that the project cost could now come in at the $1.8 million range. A January 7 JEO Scope of Services agreement indicated the Lincoln engineering firm would receive $121,500 for its work on the project. Earlier estimates had the project costing between $1.2 and $1.3 million for construction. Svec noted that several recent construction project bids are higher than they have been in the recent past.
"Ultimately, we know were the rural (fire board) sits," Svec said. "They've made it pretty clear what they want to commit."
City Council President Josh Turner said he sees the city matching the rural fire district's commitment.
"I think it's important to match the rural fire board," he said.
But, what happens if the bids come in at $1.8 million plus the JEO fees?
Geneva Fire and Rescue Department officials told the city council on April 15 they have scrutinized the proposed plans for the new fire barn at length and have eliminated some details. They also noted they have taken some elements of the project away and plan to pay or fund-raise for these additions on a case-by-case basis. They also noted they do not want to tool it down any more.
"We are trying to make it work," Ralph Graham said.
"We need the room…for training, other things than just fitting in trucks," Larry Wollenburg said. "We want firemen that are well trained and know what to do."
"I don't think we're being excessive in anything we want," Geneva Fire Chief Mike Grothe said.
"If anything, we've taken things away," Rod Renken said. "We want a functional fire station."
Geneva Mayor Eric Kamler asked the city council if it was comfortable with putting the project out for bid and seeing where the bids come in at. Using Geneva City Sales Tax dollars—possibly Economic Development funds—to make up the overrun was discussed.
"I do know that if we can't get the proper truck here, insurance rates will increase here," Grothe said.
The need for a new fire station was begun when it was determined that the current Geneva Fire Barn is not long enough to house a new fire-fighting truck.
"I think we put it to bid," Turner said. "And them, see where we are at."
Kamler agreed with the fire department members that he doesn't want the plans for the new fire station to be scaled back any more than they are for the time being.
"I'm with you guys…do this the right way the first time," Kamler said.
In other April 15 meeting notes:
• Craig Jones with First National Capital Markets, Inc., presented information to the city council on the numbers associated with a $750,000 Public Safety Tax Anticipation Bond issue. He said the current bond interest market indicates an interest rate of 3.06 percent. With a 20-year bond life, about $250,000 in interest would accrue.
• Jones also presented bond numbers associated with a $1.055 million general obligation bond issue for street and lighting work on G Street between 11th and 13th Street. By state statute, the length of the bonds would be 15 years. The average coupon rate would be 2.72 percent with a total interest cost of $242,508.06. Yearly payments would fluctuate between $83,980 and $88,902.50.
Bond payment was discussed at the meeting. A 60/40 percent city and property owner split was noted. CDBG funds have also been earmarked for the project. The city has already committed $100,000 toward the work.
• Jones also presented bond numbers associated with a $470,000 general obligation bond issue for sewer and street work in the city's new 19th Street development area. The bond issue would have an average coupon rate of 2.712 percent with a total interest cost of $106,171.78 for 15 years. Yearly payments would range between $36,045 and $41,115.
• Kamler noted that the city's Finance Committee will be meeting once a month. Fund amounts in the Geneva City Sales Tax's Economic Development is $480,748.77 (three economic development loans have recently been completely paid off); Community Betterment, $108,400.04 and Property Tax Relief, $72,478.29.
• Svec commented that City Attorney David Solheim and himself have been fine-tuning loan applications for Workforce Housing funding. Svec said that two builders have shown interest in using some of the LB840 funding pool for the purchase of lots in the 19th Street development area.
• Svec also noted that an engineer's estimate for removing the center islands along 13th Street in Geneva came in around $35,000. The city council will discuss this proposition at upcoming meetings. An idea of adding greenery in planters along the street has also been discussed.