World Food Prize Global Youth Institute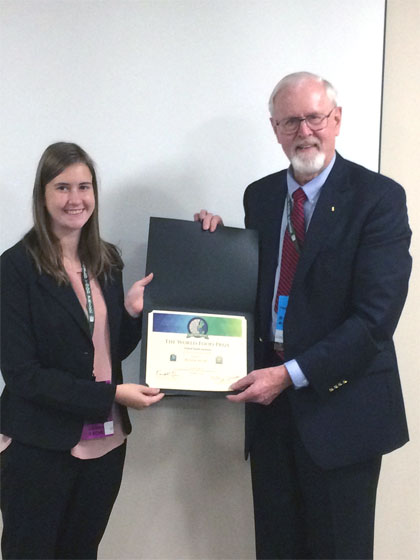 Each year, students from across Nebraska have the opportunity to compete in the World Food Prize Global Issue research paper. Students who complete the requirements are allowed to attend the Nebraska Youth Institute (NYI) in Lincoln. At the NYI, students present their research paper in small groups in front of global food security experts. During the round table discussions, the experts and students ask questions about the presenter's chosen country's food security issues and proposed solutions. Students who later decide to attend UNL's College of agriculture science and natural resources will received a $500 scholarship for attending the NYI. Students, who are not yet high school seniors, who have the best research papers are selected to attend the Global Youth Institute (GYI), in Des Moines, Iowa. GYI is a portion of the World Food Prize Symposium, where global leaders gather to educate and celebrate advances being made in solving world hunger.
Fillmore Central senior Kenna Asche received notification in June that she was selected to attend the 2017 GYI. She was one of three students in Nebraska chose to attend. Students are required to have a mentor or teacher attend GYI with them. This mentor can be someone who assisted the student in writing the research paper. Fillmore Central agriculture teacher Kurt VanDeWalle was the teacher to introduce Kenna to this opportunity.
Kenna and Mr. VanDeWalle, attended the Global Youth Institute in Des Moines, Iowa, on October 18-21. At the Global Youth Institute, they sat in on the World Food Prize Symposium panel discussions. Here they listened to keynote speakers who are making changes in global food security issues. These speakers are experts and leaders in a variety of fields, including agriculture, food and nutrition, social reform and political issues. Attendees also attended the World Food Prize Laureate Award Ceremony, where this year's winner, Dr. Akinwumi Adesina received his award. Dr. Adesina is the president of the African Development Bank Group. Attendees were able to experience listening to the Dr. Adesina speak about his efforts to end hunger in Nigeria, Africa.
The GYI also provides hands-on experiences for the students. Kenna, along with the 200 other students packed over 2,500 meals in less than 90 minutes. The meals are nutritionally balanced, dehydrated, vitamin and mineral fortified and vacuum sealed for easy transport and preparation. These meals would be shipped to Puerto Rico for hurricane victims.
The 200 students and nearly 200 teachers and mentors participated in the OxFam Hunger Banquet. This experience simulates the levels of income across the world and the amount of food each income level receives. Mr. VanDeWalle drew a ticket for the low-income group, which is the majority of the world. This group sat on the floor and shared a large bowl of rice without using plates or utensils. Kenna was more fortunate, she drew a middle income ticket. She was allowed to sit in a chair and had a meal of rice and chickpeas. The high income group, which was only about 20 percent of the population, sat a table with full table service and received a three course meal.
Participants also selected from a variety of educational tours. Kenna toured the Iowan Lutheran services which have established gardens for refugees to produce their own food and start a new life. Mr. VanDeWalle toured Hawkeye Breeders, which is a leading company in the livestock semen collection and distribution industry.
Kenna stated that, "Overall it was an awesome experience and I think the opportunity to network with people from 27 states and nine countries was my favorite part." Mr. VanDeWalle commented that this is a unique, once in a lifetime experience, which can expose students to issues being faced at the local and global levels.