First COVID-19 positive in Fillmore County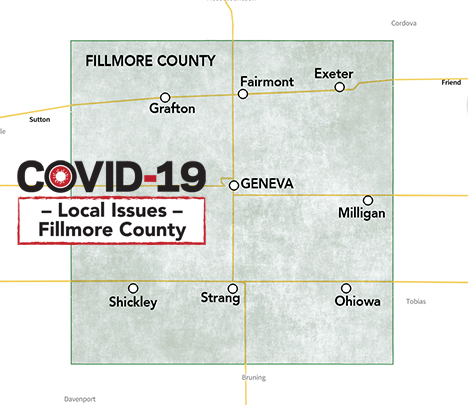 By Signal Staff
An man in his 20s has tested positive for COVID-19 last week, according to an April 22 press release by Public Health Solutions (PHS). A further investigation indicated the man lives inside the Exeter Village Limits. This is the first COVID-19 positive for Fillmore County.
PHS later determined the novel coronavirus positive was not a result of being community spread but came from direct contact. The positive individual from Exeter works in Crete, which is a current COVID-19 hot bed. Saline County reported five new cases last Thursday and eight more lab-confirmed cases on Friday. These numbers continue to surge as 47 positive coronavirus cases are linked to Smithfield in Crete (both male and female workers). This number will also balloon as extended testing services took place in Crete over the weekend.
PHS is one of a handful of Nebraska health districts that is experiencing a surge in COVID-19 positives. Because of this, the four counties in the health district will not be a part of the group of Nebraska counties where some Direct Health Measures (DHMs) will be lessened. As of press-time, Gage County had 29 COVID-19 positives and Jefferson County had one. Thayer County has yet to experience a positive. Unconfirmed reports indicate two more possible positive tests for the coronavirus in Exeter. PHS did not confirm these positives by press time. Also, the positive numbers for Saline County (60-plus) rise quickly.
Nebraska Governor Pete Ricketts has announced that some counties will experience lessened DHM restrictions beginning May 4. The earliest these eased restrictions would come to businesses and public places in Fillmore County would be May 11. This deadline could be extended.