Local COVID-19 announcements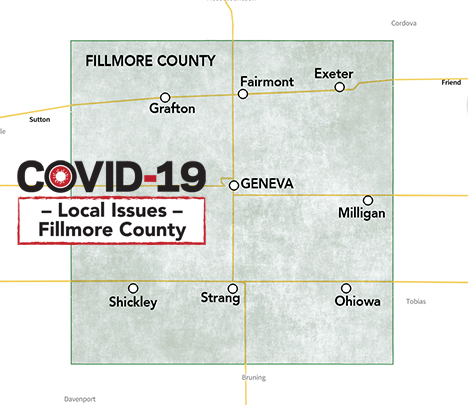 By GREG SCELLIN
Signal Editor
Thankfully, Fillmore County has not had a documented COVID-19 positive test yet, but with added testing and the predicted spike in positives coming, it probably is just a matter of time. That said, Fillmore County Hospital (FCH) CEO Nichols said the local hospital is prepared for the possibility.
When contacted, Nichols reported the following:
• FCH implemented a no visitors policy as of April 4, with various exceptions depending on the situation like child birth, end of life care, dependent adult care, emergency room, etc.
• Most rural hospitals face a PPE shortage challenge, and FCH is no different. FCH is trying to ration the supply that we have in preparation for a time where we will need to go to universal masking and protection. FCH ordered more PPEs this week, received a small allotment from Public Health Solutions, and some donated supplies from Fortigen.
• According to the State Medical Officer and Public Health, the surge of positive cases and hospitalizations is supposed to peak by late April – early May. FCH has been ramping up policies, procedures, and education for staff in preparation for this.
"There are many heroes in situations like these," Nichols said. "We would like to say thank you to our wonderful staff and healthcare providers who put their lives aside and come to work to help others during difficult times like these. You are the best."
In a press release in this newspaper, Fillmore County officials note they will be closely following Federal and State guidelines for controlling COVID-19. Starting April 6, elected officials and staff will continue to work normal business hours and provide county services. However, no walk-in members of the public will be allowed into county offices other than on court days. The use of the drop box south (behind) the Fillmore County Courthouse can be used for correspondence to any county office. Also, refer to the county's website (www.fillmorecounty.org) or call 402-759-4914 for more information or questions. As of press time, the Fillmore County Court and Fillmore County District Court will operate business as usual. Defendants are encouraged to call first to verify any possible schedule changes. Also, only the actual defendants (people charged with a crime) will be allowed access to the court room. Fillmore County Court number is 402-759-3514; Fillmore County District Court is 402-759-3811.