Scarborough Featured Guest Artist for January and February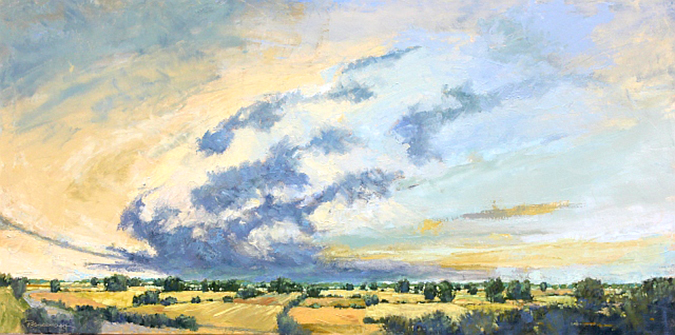 Works of Patricia Scarborough, a renowned Nebraska artist from Geneva, will be featured at Gallery on Lincoln Avenue, otherwise known as GOLA, starting Wednesday, January 6 and continuing through February 27, 2021.
Scarborough regularly exhibits her paintings and pastels at the Burkholder Project in Lincoln, as well as the Anne Thorne Weaver shop at the Museum of Nebraska Art in Kearney. Her art has been featured throughout the state at such venues as Stuhr Museum, Norfolk Art Center, Minden Opera House, and the Willa Cather Foundation in Red Cloud.
Most recently, she was selected to take part in "Vision: 20/20 Nebraska's Top Twenty Agrarian Artists at Bone Creek Museum of Agrarian Art in David City. She was also invited to participate in the 2020 Spirit of the Plains fundraiser and exhibit at Museum of Nebraska Art, and the 2019 biennial juried exhibit at Gallery 1516 in Omaha.
Scarborough has enjoyed studying the colors, textures, shares, and shadows of the Midwest since her childhood in Kearney. "Simply put, I love the landscape of Nebraska: the gently rolling hills and flat fields, rows of ancient cottonwoods and bowers of tangled bushes," says Scarborough of her art. "I try to record not only a representation of a place, but also its emotional character, creating a window for others to share the experience with me."
Scarborough earned a degree in art from Kearney State College and has studied with many respected artists including Hal Holoun, Doug Dawson, and Kim Casebeer.
GOLA is operated by a cooperative group of central Nebraska artists comprised of Ken Bassett of Grand Island, Jeremy Daniels of Hastings, Marilyn Reynolds of Blue Hill, Ann Martin of Doniphan, Sally Jurgensmier of Heartwell, and Kay Grimminger of Grand Island. Gallery hours are 11 a.m. to 5 p.m. on Wednesday, Thursday and Friday; and 11 a.m. to 4 p.m. on Saturday. It is located at 221 North Lincoln Avenue in Hastings.