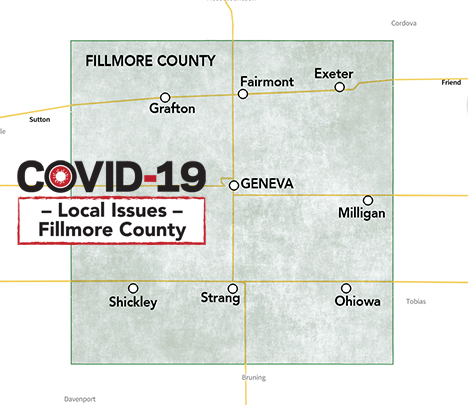 By Signal Staff
As testing is getting more and more accessible, a fifth Fillmore County resident has tested positive for COVID-19 this week, according Public Health Solutions (PHS) officials. The fourth novel coronavirus positive announced last week was tested in a resident who lives in Geneva.
In this week's most-recent release, PHS announced nine new COVID-19 positives in Saline County and one new positive in both Gage and Fillmore counties. To date, Saline County has 443 (eighth most in the state) COVID-19 positives (89 percent of the five county PHS health district's total). Gage County has 44 total novel coronavirus positives, but only five of these have occurred in the last three weeks. In early April, the Gold Crest Retirement Center in Adams had a surge of COVID-19 positives. By April 7, the center had 12 residents and two staff members test positive and the county had 19 total positives. Four of the PHS health district's deaths have been attributed to Gage County. Saline County had 178 new novel coronavirus positives in the last three weeks. Thayer County still has no confirmed cases.
Both Jefferson (six total) and Fillmore (five total) counties have had two new COVID-19 positives in the last 17 days. In the other two neighboring counties, there are currently 30 COVID-19 positives in York County and 23 positives in Clay County.
Statewide, as of Friday morning, 10,625 Nebraska residents have tested positive for COVID-19 resulting in 125 deaths. Of these positive novel coronavirus cases statewide, 50 percent of these residents live in three counties—Douglas, Dakota and Hall counties.