Heritage Crossings China Luncheon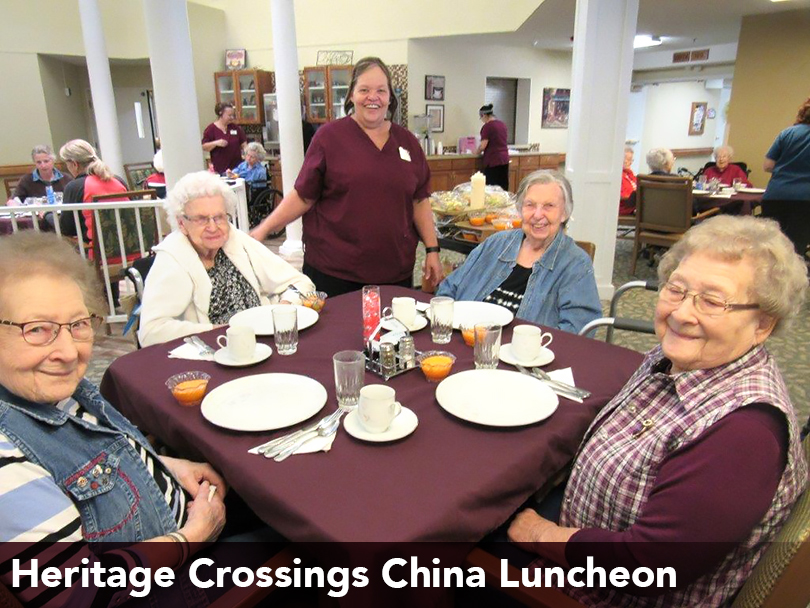 Heritage Crossings took on a new setting as the tables were adorned with a variety of beautiful china dishes and decorations. The ladies from both SNF and ALF were treated to a delicious meal in a grand setting. Several staff members had brought in their china to be used for this occasion. Some of the dishes had extra special meaning as it was the resident's own china handed down to her granddaughter. A delicious meal was served from our dietary staff while dinner music was played in the background.
After the meal, the ladies were then treated to a style show provided by Patty Roper of Cumberland's Style Shop of Geneva. We had some lovely fashions modeled by Administrator Laura Lea, Director of Nursing Shari Lambrecht and Social Service Director Cherie Domeier. We also had a beautiful jacket modeled by Assisted Living resident Jarlath Schutt and a sweater and scarf set by Evalyn Slepicka. The audience so enjoyed the variety of styles that were being presented to them. You could hear lots of "oohs and ahs" throughout the room.
The afternoon was topped off with a special music program given by Kevin and Heidi Cheng who are requested often from our residents. They play piano and violin concert music and other popular requests. The ladies and gentlemen along with their guests once again enjoyed their delightful presentation.