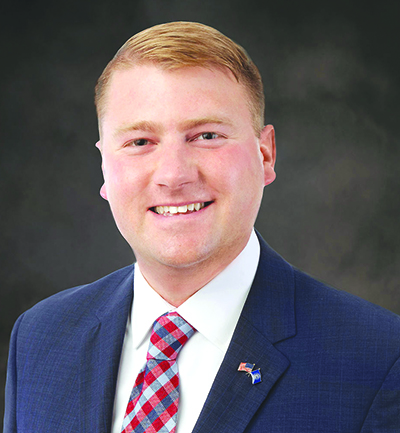 The Nebraska State Capitol was the site on Thursday, January 5, for the swearing-in of Nebraska Public Service Commissioners Eric Kamler, and Kevin Stocker. The public inaugural ceremony held in the Legislative Chambers marked the beginning of a six-year term for both Commissioners.
Commissioner Kamler, 31, Geneva, begins his first term as a member of the Public Service Commission (PSC) representing the 4th District. Prior to his election to the PSC, Kamler served as Mayor of Geneva from 2018-2022 and on the Geneva City Council from 2014-2018. Commissioner Kamler, a 2009 Fillmore Central graduate, is also the fifth generation of his family farm and a graduate of the University of Nebraska-Lincoln.
Commissioner Stocker, 62, Scottsbluff, begins his first term as a member of the PSC representing the 5th District.
"It is an exciting day for both Eric, Kevin and the Commission," said Commission Chair Dan Watermeier. "We congratulate both of our new Commissioners and look forward to working together as we strive to ensure quality services for all Nebraskans."
The 2nd District Commission seat vacated by former Commissioner Crystal Rhoades remains open at this time. The position will be appointed by the Governor.