Panthers Third At Norris Invite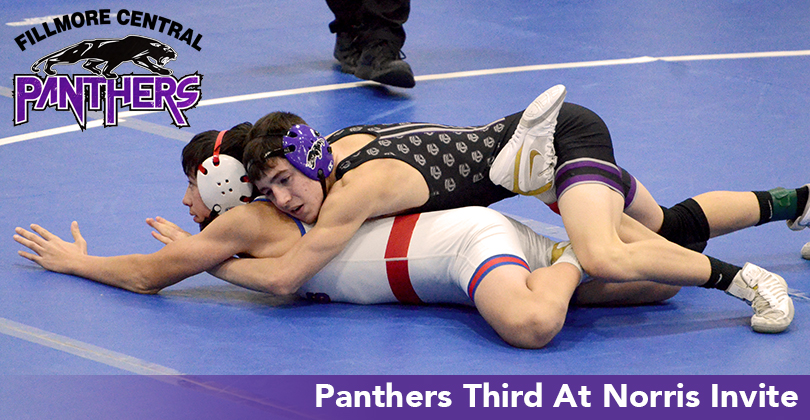 Fillmore Central landed in third place at the eight-team Ron Severson Invite on Friday at Norris High School. Wilber-Clatonia were the team champions and the home Titans were second. Omaha Concordia and Omaha Gross Catholic followed the Panthers.
FC had eight wrestlers place in the top three on February 7. Thomas Barnes was perfect and finished first at 182 pounds. Barnes enters district action at 38-12. Travis Meyer (24-17) went 2-1 for second place at 106 pounds. Dillon Fushia (18-7) finished 2-1 for runner-up at 120 pounds. Aiden Hinrichs (35-16) went 3-1 to take second at 138 pounds. Gavin Hinrichs (39-10) finished 3-1 at 160 pounds to place second.
Alex Schademann (44-6) went 3-1 at 113 pounds and placed third. Aidan Trowbridge (22-9) went 3-1 at Norris to take third at 120 pounds. Connor Asche (26-9) went 3-1 on Friday to place third at 285 pounds.
Conner Nun (20-22) went 1-2 at 145 pounds and Brant West, Jr., (9-9) finished 1-2 at 285 pounds but did not medal.
"We wrestled really well at the Norris Invite," FC head coach Ryan Komenda said. "A lot of great things to take into this weekend's district tournament."
Komenda tabbed Meyer, Barnes and West, Jr., as his squad's Wrestlers of the Week. District action begins this Friday at 4 p.m. Action resumes at 9 a.m., on Saturday in Malcolm.
See page 2A for complete bracket recaps and information. See page 7A for the Groundhog JV Invite, which took place on Thursday in York.