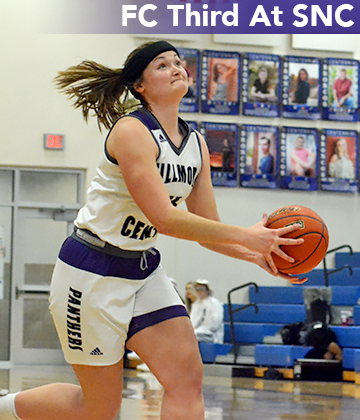 Fillmore Central got past red-hot Sutton (winners of 10 out of its last 11 games) 54-45 to claim third place in the 2020 SNC Girls Basketball Tournament. A poor third period on Thursday night kept the 15-6 Panthers (No. 9 in wildcard points in Class C-2) from playing in the league's championship game for a second straight season.
FC got out to a quick start in the Saturday afternoon consolation final at Centennial leading the Fillies 7-3 early and 16-9 about halfway through the second period. Sutton answered with a 9-4 run late in the second quarter to trail just 20-18 at halftime. Both teams were whistled for eight first-half fouls.
Thirty seconds into the third period, a Filly 3-pointer gave Sutton its first lead at 21-20. FC answered with a Jackie Schelkopf trey, then a steal and basket from Eli Traversa. Two Halle Theis free throws completed a 9-2 Panther run and had FC up 34-27 entering the final quarter. The Panthers maintained their advantage throughout the final stanza. Two Macy Scott free throws following a steal pushed the FC advantage to double digits at 41-31.