County still COVID-19 free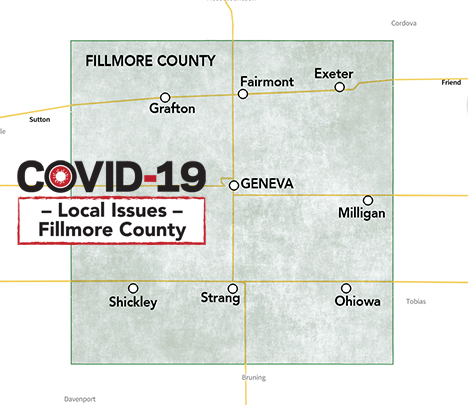 By Signal Staff
As of Monday morning, Public Health Solutions (PHS) reported four new lab-confirmed COVID-19 cases in the district. These include three new cases in neighboring Saline County and one more in Gage County.
• A female, in her 50s, Saline County, close contact of previously reported case.
• A male, in his 30s, Saline County, exposure under investigation.
• A male, in his 20s, Saline County, exposure under investigation.
• An infant, Gage County, hospitalized for an unrelated condition, exposure under investigation.
These four new cases brings the total confirmed COVID-19 cases within the PHS district to 35—28 in Gage County and seven in Saline County. No confirmed cases have been found in Fillmore, Jefferson and Thayer counties.
PHS reminds individuals that the confirmation of positive COVID-19 cases will continue to increase as more testing becomes available. The best way to protect yourself from exposure is to practice social distancing, avoid any gatherings and continue to practice good hand hygiene.
As of April 20, Fillmore County remains without a COVID-19 positive. Neighboring Clay County has four novel coronavirus positives to the west and York County has seven COVID-19 positives to the north. Three of York County's positives have been determined to be community spread. Also, one of the positives in York visited the Ace Rent-To-Own on S. Lincoln during regular business hours on Monday, April 13. People known to have visited this store on April 13 should be extra cautious if experiencing coughs and known COVID-19 symptoms. Saline County to the east now has seven positives. Thayer County to the south has yet to have a positive. Adams County is the closest to Fillmore County with the greatest amount of positives now approaching 100. Hall County leads the Cornhusker state with 457 positives. Understandably, Douglas County and Lancaster County are next in total positives.
New novel coronavirus positives were discovered last week in the Nebraska counties of Furnas, Red Willow, Saline, Morrill and Howard. With ever-changing totals, Nebraska noted 1,287 positive COVID-19 cases over the weekend with 28 deaths (2.2 percent). The nation's total over the weekend was 700,000 positives resulting in some 34,000 deaths (4.9 percent).
On Saturday, the Southwest Nebraska Public Health District reported the first COVID-19 case in Furnas County, a male in his 20s.
Central District Health Department announced three new deaths. A male in his 70s died at a hospital in Hall County; a male in his 80s died at a long-term care center in Hall County, and a third case died in Hamilton County – https://www.facebook.com/cdhd.ne.gov.