Geneva Native Part of 2020 Governor's Arts Award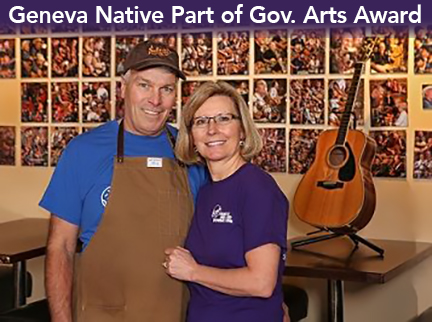 The Nebraska Arts Council recently announced the 2020 Governor's Arts Awards honorees. The biennial Governor's Arts Awards is Nebraska's premier event in recognizing individuals and organizations that shape our state's artistic landscape. The impact of the arts, and these honorees, is felt in the classroom, the economy and the community. Honorees include Matt and Shelly Sehnert of McCook. Shelly (Moravec) Sehnert graduated from Geneva High School in 1983.
Matt and Shelly recieved the Thomas C. Woods III Partner in the Arts: Awarded to an individual, business, school district or community organization that has shown outstanding commitment by its continued support of the arts through time, energy, expertise and/or financial support.
While Matt Sehnert's profession may be that of baker and small-business owner of Sehnert's Bakery and Bieroc Cafe in McCook, Matt and his wife, Shelly, have expanded their role in Southwest Nebraska both as an innovator and supporter of the arts over the past three decades.
The Sehnert's connect and draw people into the art world, simply because they feel art is vital to a thriving and robust community. In the Sehnert's view, art is more than entertainment; art builds humans from the inside-out.
Nearly 20 years ago, Matt and Shelly joined with Dale and Mary Dueland to create a listening-room concert series at the bakery, which features both up-and-coming musicians as well as established singer-songwriters from across the country. But the Sehnerts are even more proud to showcase local citizens as the opening act for the concert series, from teenagers to accomplished musicians, who share their talents with friends and family.
Matt and Shelly's impact extends beyond the walls of the bakery. Because of their desire for an expanded art scene in McCook, others are now more willing and able to participate in new experiences that bring the community and the arts together, whether it's creating a ukulele "band" at the high school to bringing an "outsider art" collection to McCook to developing an outdoor music festival.