Women business owners big change in last 25 years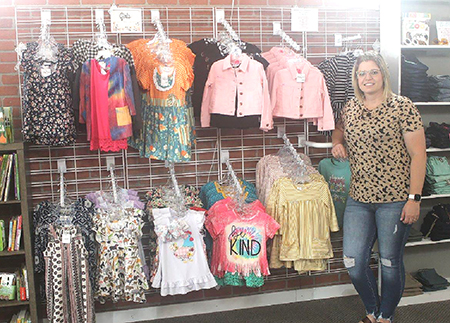 By Dianne Girmus
The Nebraska Signal
Editor's Note: I asked our feature writer to pen this story on women business owners in Geneva. With this being Geneva's 150th year of existence and instead of recapping all 150 years, I thought 'What has been the biggest change in the business landscape here in the last 25 years'. Dianne's story follows.
As Geneva celebrates its 150th Anniversary, residents can feel a sense of pride in their community's beauty and strength that is reflected in many ways—décor, buildings of unique architectural design, historic structures, on-going industrial projects and up-to-date businesses.
Visitors get an immediate sense of the town's richness as they are greeted at 13th and G Streets by the nostalgic 1950's neon Geneva sign, followed by the avenue of historic street lights on the quaint brick-accented street. Further adding to the town's charm is the historical 1894 Richardsonian Romanesque style Court House, the Geneva City Auditorium built in 1915, the restored Eddie's Service Station of 1922 and more.
Through the 150 years, the strength of Geneva has always been supported by its great businesses, with the last 25 years showcasing a new era—women in small businesses, which are the heart and soul of communities, as they offer hope and spark growth. They keep the money at home and help the local economy, provide exciting shopping venues to keep shoppers local and create more community jobs—all promoting the economic cycle.
There are many advantages in women owning a small business. Being their own boss, they rise to leadership on their own terms, they control their pay, can define how they want to work and have the deciding factor as to making the balance of career and family life easier.
The current women's businesses have a huge impact in Geneva, due to their exciting variety—from a traveling suitcase that brings women's clothing directly to one's door, to a massage parlor that also offers revitalizing detox footbaths, to artistically-created cookies too perfect to eat.
Megan Burda's Brick Road Boutique, a premier traveling boutique, is one of the newest trends in clothing sales, with clothing delivered-direct for home parties and stop-by-house, end-of-season sales at her residence—941 P Street.
OMG Cakes and Treats, at 972 G St. has been owned by Whitney Lauber since 2019 and offers exquisite cakes, cupcakes, cookies and mints.
Terri Wusk's Healing Essentials, Inc. is a massage parlor that offers pain relief, relaxation and healthy-body upkeep massages. Located at 125 S. 10th St., it also offers detox footbaths to aid any part of the body. In her 20th year, the Licensed Massage Therapist said she is very happy she chose this profession and that business continues to thrive.
"I believe in natural therapies to help people. God created our bodies and I feel blessed to be able to do that naturally," Wusk said. "People find the benefits and word of mouth travels. People sense I truly care for their well-being and that makes a difference as well."
Other massage services can be obtained at Tranquil Point Massage, 137 N. 10th St. established in 2019 by Christina Srajhans, L.M.T., A.A.S. and at Studio 81 Salon Co., 918 N. 13th St., a full-service hair salon and massage service that is owned by Shelbi Palensky since 2011.
Four other beauty shops are also available: House of Hair Design, Inc. at 1311 J St., opened in 1978 by Vicky Girmus, is a full-service salon with tanning bed, Hair Works by Kathy, a hair and tanning salon, at 200 S. 9th St., originated in 1989 and is owned by Kathy Domeier, Styles by Sandy, at 230 S. 9th St., a full-service salon offered by Sandy Gergen, who has been in business since 1984 and a new facility, Creative Hair and Nails by Simone Yates, offering all hair services, opened In May 2021 at 128 S. 8th St.
To unwind and have some fun, a new coffee bar, serving lattes, smoothies, frappes and more, is available at Casally and Coffee, 966 G St., which opened in 2020 by Sally Ewalt. New fall drink flavors include Gingerbread, Spiced Vanilla, Pumpkin Spice and others. The shop also offers women's clothing, accessories, home décor and gifts.
Other clothing stores include: Cumberlands Fashions, at 848 G St., a family store, owned by Mary Bruning, Judy Ousey and Patty Roper Epperson, in its 76th year, offering women's fashions, accessories and fun shopping perks and Mylah Rose Boutique at 926 G St., originated in 2017 and owned by Nicole Schoenholz, offers baby, children's and women's clothing, accessories, shoes, gifts and more. Lowered ceiling-lighting gives the store unique character—a "sparkling" effect.
Schoenholz characterizes the strength of the women in business today, as she was the mother of four young children, ages 7, 4 and twins that were only three years old, when she started her successful business.
"I was very determined to do this and had a lot of help with the kids, but they were also at the store helping me in getting it ready to open," Schoenholz said. "The kids understood it was all very important to me and they helped make it work."
For superb food, several venues offer great choices. Jill's Sweet Shop, a café and bakery at 974 G St., offers a wide variety of delicious food and bakery items including homemade pie. Owned by Jill Schmidt since 1994, it also offers a catering service and concession trailer. Sisters' Café, owned by Patty Miller and located at 310 S. 13th St., also known for its fantastic food, has been in business nine years. It is a café with a true heart, as it offered free Christmas dinners in 2015 to those who had nowhere else to go. Overtime Grill & Lounge at 842 G St. is owned by Sherry and Jerry Jantze since 2008. It is a sports bar and beer garden that offers salad bars, sandwich bars, regular and specialty burgers, steak, shrimp and much more.
Geneva Floral, 960 G St., has been owned by Lisa Stofer since January 2020 and turns feelings into flowers. It offers fresh and silk flowers, houseplants, sympathy and wedding arrangements and Pacha and Dr. Squatch soap lines.
Rebekah Dru Photography captures natural light lifestyles. The business is located at 1016 I St.
All kinds of treasures, ranging from repurposed furniture to collectibles, to locally-made wind chimes and much more, may be found at All Things Consignment Shop, 909 F St., a vintage store opened in 2015 by Sally Row.
To give your dog a new look, visit Barks & Bubbles Dog Grooming, at 119 N. 10th, which grooms all sizes and breeds of dogs and offers haircuts, baths, nail trims and teeth cleaning. Owned by Valerie Turner for eight years, it also offers grooming packages, dogs' treats and shampoos.
Two agriculture businesses include: Geneva Implement that is owned and managed by Janet Burt Eggers. Located at 1411 N. 13th St., it offers Case International Harvester farming equipment and also parts for equipment. Wilkins Livestock Insurers, Inc., an insurance broker, at 830 G St., owned by Stacy Brodrick and Bob Wilkins, managed by Stacy Brodrick, was founded in 1980.
Legal services may be obtained at the Ach & Cunningham Law Office, 129 N. 10th St., by Jill Cunningham who's been in business since 1996.
If in need of physical exercise, Jazzercise, at 137 S. 10th, is your answer. It is a physical fitness center owned by Deb Yates for five years.
Verizon, a mobile phone shop—electronics store and Internet service provider, at 912 G St., has been run by Bobbi Oliva for three years.
For electrifying nails, visit Lisa Vejraska's Thumbs Up Nail Salon, 121 S. 10th St., for manicures and pedicures, being in business for 18 years.
Progressive Chiropractic & Rehab Clinic, PC, by Dr. Nicky Eimermann, located at 115 S. 10th St., has served Geneva since 2012.
Thread in Time, at 455 S. 13th St., is a furniture upholstery store owned by Brandy Hafer, who started the business in 2021.
Several women are in the Day Care business: Nancy Chaney of Nancy's Kids since 1983, Rhonda Larkins of Rhonda's Day Care, 23 years, and Alicia Melo of Little Explorers who's been in the business 18 years.
Geneva Mayor, Eric Kamler, is very happy with and appreciative of all the women in Geneva businesses today.
"I am extremely proud of the women in Geneva who have stepped up to truly make an impact and provide a variety of goods and services for all in our community. Geneva is a welcoming town to all and the success of our thriving business community is evident of that," Kamler said. "The innovative ideas and businesses that the women of Geneva have built here truly excite me for the future of our growing hometown and I could not be more thankful for each and every one of them. I wish everyone continued success!"
As we celebrate this 150th Anniversary, we also want to pay tribute to all the other businesses that have strengthened the town and economy throughout the years—that have helped Geneva's current business status today.