Eagles Fly Into Lincoln Again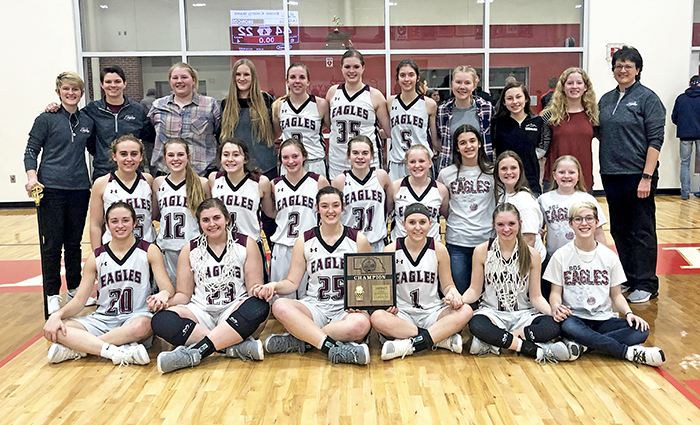 By GREG SCELLIN
Signal Editor
Bruning-Davenport/Shickley had little trouble advancing to its third-straight appearance in the NSAA Girls State Basketball Tournament, as the 18-5 Eagles rolled past out-manned Stuart 44-22 on Friday night at Boone Central High School in Albion. BDS held the 13-10 Lady Broncos to just a basket in the first quarter and led the D2-6 District final 25-9 at intermission.
BDS finished third in last year's D-2 State tournament and were the D-1 State runners-up the season before. The Eagles are the sixth-seed in Lincoln this year. BDS will play once-beaten Mullen this Thursday night at 8:45 p.m., at Lincoln Southwest High School. The second D-2 semi-final game tips off at 3:45 this Friday at the Devaney Center. The D-2 State final begins at 4:30 p.m., on Saturday at the Pinnacle Bank Arena.
Both teams had early-game jitters on February 28 in Albion. A Regan Alfs trey had BDS up 7-0 late in the first period and a Jordan Bolte steal and three-point play had the Eagles up 12-2 after one stanza. The sloppy play continued in the second quarter. Another Alfs 3-pointer had BDS up 20-9 late in the second period. A Mariah Sliva lay up and another Alfs trey—this time a true buzzer-beater—capped an 8-1 run to end the first half and saw the Eagles ahead 25-9 at halftime.
BDS head coach Shana Gerberding noted her team struggled a bit scoring in the first half, but it's defense remained stout.
"They had been averaging 44 points a game and our goal was to hold them to 35 so we accomplished that," Gerberding said.
The head coach also noted it was nice to see Alfs step out and make some threes since Stuart was defending the post aggressively.
"From here on out, they're going to sag on Regan," Gerberding said. "It's going to take both ends for us to keep going."
The Lady Broncos showed some signs of life to begin the third period and mounted a 6-0 run to cut the BDS advantage to 11 at 28-17. From there, freshman JessaLynn Hudson added back-to-back buckets in the paint and Rylee Haecker sank a jumper to push the Eagle advantage back out to 17 at 34-17 entering the final period of play.