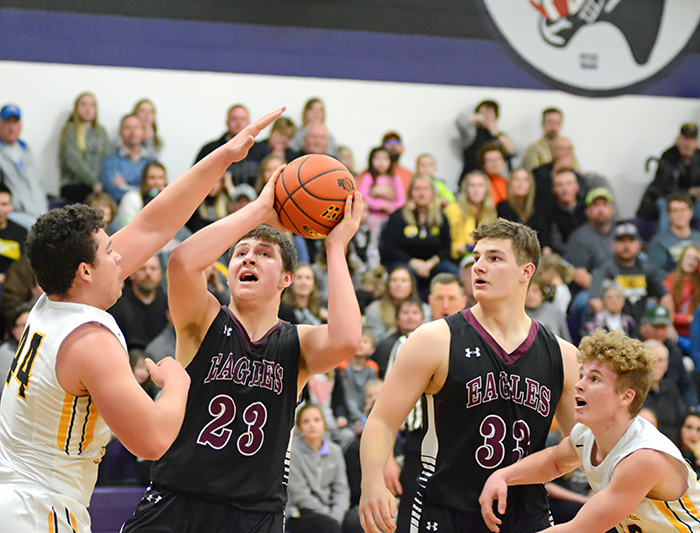 Bruning-Davenport/Shickley returned to the floor last Tuesday to begin D1-7 Sub-District action against the Harvard Cardinals at Fillmore Central High School. BDS entered the tournament as the No. 2 seed with the Cardinals coming in as the No. 3. BDS got out to a strong start early as they took an 11-5 lead to end the first quarter.
But the Cardinals wouldn't let the start stop their fight. Led by a 10-point quarter from Noah Okraska, the Cardinals were able to cut the lead to five going into the half at 20-15.
"We knew he was a very strong player and tough match-up and he made shots all night long," said Eagle head coach Greg Schroeder. "Fortunately, we were able to hit some shots and not let them take the lead and any momentum."
The Eagles opened up the third quarter behind strong play from junior Dalton Kleinschmidt who put in eight in the period.
"They left Dalton to shoot and fortunately he was able to hit a couple which we needed him to do," Schroeder said. "When our posts are having some success, we need those guards to step up ready to knock a couple shots down, and we hit enough tonight. All three of our seniors had some big plays so that was great to see as we are hitting the home stretch."
The Eagles finished the game with another 15-point quarter to win the game 50-32 to advance to a Thursday night contest with CRC-foe McCool Junction.

BDS took the court in the sub-district final action Thursday against the 18-5 McCool Junction Mustangs. The match-up would be the third of the season as the two split the first two meetings. Both teams got off to a slow offensive start in the first quarter, but a couple BDS turnovers let the Mustangs get a couple quick points and an 8-4 advantage after the first. The same was had in the second quarter in Geneva, as the Mustangs against outscored the Eagles 8-4 again and led 18-8 at the break.
"We had a couple breakdowns defensively that they made us pay for, but for the most part I was really pleased with our defensive effort for the game," Schroeder said. "I felt like we needed to get out to a quick offensive start though and get some early confidence because their team speed is outstanding, and unfortunately that didn't happen, and it didn't ever get going."
The offense for the Eagles continued to be a struggle for the rest of the night as they were outscored in both of the remaining quarters ending the Eagle's season at 14-9 with the 43-27 loss. The Eagles were led on the night by junior Eric Schroeder and senior Nolan Weber with eight points apiece.
"It's never easy to send your seniors off at the end of the year, but I was proud of how they grew as leaders through the year," Schroeder said. "While we lose Josh Swartzendruber, Isaac Else, and Nolan Weber for next year, we do have a lot of pieces coming back and we will get to work on improving things that hurt us this year. The Eagles want to thank all the parents, fans, and administration for the support throughout the season."